Parallels 'blue-sky' blueprint for 'true-blue' Cloud Services
Cloud services company Parallels has dried off the ink on its free Cloud Service Provider Blueprint and "complimentary" (no less!) whitepaper designed to help service providers profit from the Cloud.
This piece of 'blue-sky' thinking joins IDC's habitually upbeat predictions for new global IT spending on cloud services. But IDC's arguably well-paid cloud analysts are rarely downbeat about cloud growth, so take that lightly.
Parallels for its part says its blueprint points to and addresses the necessary elements of a complete cloud service delivery platform, from provisioning to infrastructure management to service integration.
"It examines issues such as how to manage the thousands of components and varied technology platforms required to deliver a cloud service, the importance of self-service enablement, and whether to employ a usage or user-based billing business model," says the company.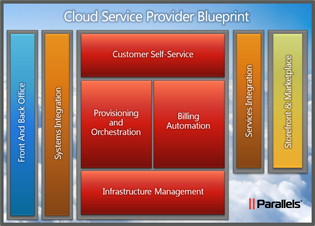 Image courtesy of Parallels: the Cloud Service Provider Blueprint

The Cloud Service Provider Blueprint highlights the necessity of leveraging a service delivery platform that is purpose-built for the cloud, with capabilities to provide a full set of services and a seamless user experience for the entire service lifecycle, from ordering to consuming to de-provisioning.
"The cloud is having a major impact on IT prompting service providers of all categories to adapt their strategies to deliver services in it," said Jack Zubarev, president of marketing alliances at Parallels. "However, there has been little discussion about what it takes to launch these services quickly and deliver them profitably, and that remains a significant challenge within the industry. Our Cloud Service Provider Blueprint is the industry roadmap for how to gain a time-to-market edge in a highly competitive segment and how to architect for profitability."