Microsoft student programmers follow UN development goals
Now in its tenth year, Microsoft's student developer competition The Imagine Cup will hold its 2012 worldwide finals in Sydney, Australia.
This year's theme has been designed to run close to the world challenges being addressed by the United Nations Millennium Development Goals (MDGs).
As part of their Imagine Cup entry, students must explain how they would use technology to help solve some of the world's toughest problems.
"Already the MDGs have helped lift millions of people out of poverty, save countless children's lives and ensure that they attend school," said UN Secretary-General Ban Ki-moon in July of this year.
"They [MDGs] have reduced maternal deaths, expanded opportunities for women, increased access to clean water and freed many people from deadly and debilitating disease.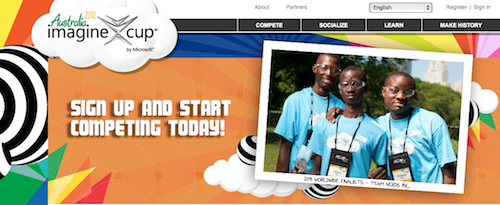 For Imagine Cup 2012, students can choose from three team competitions — Software Design, Game Design: Xbox/Windows, and Game Design: Phone.
According to the Windows Azure team blog, "Students already signed up to compete in the three competitions can increase their chances to share their world-changing ideas by signing up to compete in the Windows Azure or Windows Phone Challenge."
Windows Azure has been a popular technology among Imagine Cup students in past years. In fact, 32% (36 projects) in last year's competition used Windows Azure.
You can read more here http://www.imaginecup.com/ for competition details, FAQs and examples of previous years' winners.