Mainlining on DevOps: Perforce intros Helix GitSwarm
As readers of the Computer Weekly Developer Network blog will know, we don't appreciate firms who bolt on the term DevOps to a tangential function in order to try and spin some 'share of voice' in the media.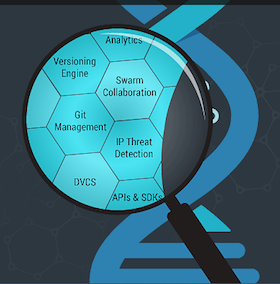 No worries of this kind with Perforce Software though… the firm's understanding of developer workflow processes has led it to announce the general availability of Helix GitSwarm, a complete Git ecosystem integrated with Perforce Helix.
Based on the GitLab collaboration suite, GitSwarm is supposed to foster developer productivity through Git repo management, a pull-request workflow, issue tracking and an integrated wiki.
With GitSwarm, Perforce Helix integrates Git workflow used by development teams with mainline development preferred by DevOps teams responsible for releasing products quickly.
GitSwarm developers use "narrow cloning" from a Helix mainline to manage the distribution of intellectual property through Git.
At the same time, mirrored branches of code maintained in the Helix Versioning Engine protect enterprise IP from potential theft and loss that can take place with unmanaged code distribution.
By integrating Git workflow with a centralised workflow, Perforce Helix addresses the limitations of native Git and other Git management solutions in the enterprise.
It meets the scalability required by DevOps practices and supports enterprise-class digital asset management, global distribution, high performance at petabyte scale, quality, security, process management and governance.
"Helix GitSwarm allows developers to collaborate in their preferred workflow," said Sytse Sijbrandij, CEO of GitLab. "Backed by the scalability of the Helix mainline repository and the collaboration features of GitLab, GitSwarm is a powerful Git-powered enterprise platform."
According to Gartner, "Enterprise-grade management of Git that offers important aspects of a DVCS — good merging, the ability to work offline and good collaboration — along with the security and central repository of a CVCS, will resolve most remaining concerns about the use of the DVCS model."
"Popular Git repo hosting services are great for small open source projects but fall short when a company needs to scale, protect their IP, or work with more than plain text files," said Christopher Hoover, vice president of product strategy at Perforce. "With the addition of GitSwarm to our Helix platform, we've delivered a single-vendor, best-of-both-worlds solution that understands and respects development teams as well as the business, digital asset and security needs of a large enterprise."
Helix GitSwarm is available free of charge as part of Perforce Helix.