Is Box OneCloud a lesson for a new class of applications?
Online file sharing and cloud content management company Box launched its OneCloud service two years ago back in March of 2012 with what started out as 30 applications on iOS (and later Android), mostly focused on improving user productivity.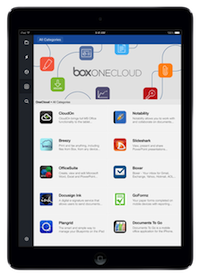 Did this herald (as the company would have liked) the "new way" for us to consume applications? i.e. via an online cloud portal.
Does this trend have a deeper message for software application developers such that they should now target applications for deployment to this types of connected ecosystem with a heavy predisposition to mobile devices?
Box has detailed its last two years in this space and notes (for developers in particular) that it introduced a set of tools designed to simplify the integration process for programming moving application structures to this kind of portal.
OneCloud has now grown to more than 1,000 applications and claims to boast "a trusted ecosystem" for 25 million users.
Major brands like HP and Cisco Webex Meeting have integrated their products with Box, that always helps.
A new class of applications?
"We are starting to see a new class of applications emerge – applications whose sole focus is to address content-specific workflows for vertical industries," said Cecilia Haig, OneCloud product & program manager.
Haig points to applications like "drchronoused" for doctors to care for patients while they are bedside and applications like TrialPadare modernising courtrooms and legal proceedings…
… or as Haig optimistically phrases it, "digitalizing" the attorney's briefcase.
Box says that in this past year OneCloud adoption has increased in industries like healthcare (+400%), architecture, engineering and construction (AEC)
(+300%) and education (+300%).
Box points to key growth in industries with deep-rooted processes that are both repetitive and manual — well, Box would, wouldn't it?
Yes this is just one side of the story, but there is a strengthening trend here.