IBM serves up bacon double social burger
IBM has announced that McDonald's South Africa is using IBM social business software in what the firm calls an embrace of the convergence of social, mobile and cloud.
Underneath the bun and between the BBQ sauce and pickles here is a story about employee collaboration through software application development. The firm has 200 "restaurants" and 8000 employees to connect in the region.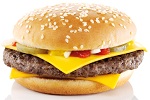 But with such a "standard format of service and food quality" why bother?
McDonald's reports that it wanted to use the IBM software to begin transforming into a social enterprise to help "geographically dispersed employee" to communicate and share ideas.
Managing director for McDonald's South Africa Greg Solomon specifies that his firm has been using IBM Connections and IBM Sametime instant messaging software to support internal communication and training requirements across its branch network.
The McDonald's crew (staff at restaurant level) will access the platform via a mobile solution, supplemented by in-restaurant touch screen docking stations.
"McDonald's decision to embrace social business is pioneering and is reflective of the need to find smarter ways of working," says Alistair Rennie, general manager, social business, IBM. "McDonald's is taking a purposeful approach, using social technologies to engage employees, empower customers and drive organizational performance to secure a competitive advantage."
The point here may indeed be to try and maintain that level of "tastes the same everywhere consistency" that McDonalds South Africa is trying to make sure it upholds. This "you know what you are going to get when you order" business model is, after all, the framework upon which the firm has built much of its success.