Hacking Apple Siri to broaden speech recognition
Apple's natural language speech recognition Siri technology appears to be receiving plenty of interest from the developer community just now.
More accurately, the Siri speech user interface is being actively hacked with a view to extending it into third-party applications; something that is not currently possible given that Apple has not released a Siri SDK.
Developers at Paris-based firm Applidium have reverse engineered Siri's speech-to-text conversion capabilities and published a brief technical explanation of the protocol and some sample code for programmers that might want to pursue this opportunity.
Applidium's efforts are not the only hack here. A St Louis Missouri-based programmer known as @plamoni has built a means of running a proxy server on his desktop PC to fool Siri into thinking it is talking to Apple's servers.
According to the GitHub project page describing this "tampering" proxy server, "Siri Proxy is a proxy server for Apple's Siri assistant. The idea is to allow for the creation of custom handlers for different actions. This can allow developers to easily add functionality to Siri."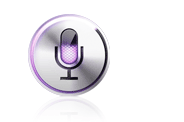 Apple is thought to be both tightening up security controls on Siri and working towards making the technology more open anyway in the near future.