HP 'reimagines compute' with new server haul
According to Merriam-Webster, COMPUTE is a transitive verb meaning: to determine especially by mathematical means; also : to determine or calculate by means of a computer.
1: to make calculation : reckon
2: to use a computer
According to HP, it is the term we will now use to describe the ethos behind its next generation of ProLiant Gen 9 systems based on Intel's forthcoming Xeon E5v3 processor chips.
"The market for server-based technology has changed and will never be the same again," said Peter Schrady, VP and GM of Rack & Tower Lines for HP Servers Worldwide.
READER NOTE: A more complete story analysis is provided here on Computer Weekly:
HP launches cloud and SDDC-ready ProLiant servers.
Schrady and team were in residence at London's Shangri-La hotel at The Shard this week to explain how mobility and the use of Internet connected devices are driving change back down the technology chain today from front end devices down to servers.
The new HP ProLiant Gen9 portfolio is said to be a milestone in HP's 'compute
Strategy', which seeks to address IT demands with a pool of processing resources that can be located anywhere, scaled to any workload and available at all times.
The servers are optimised for convergence, cloud and software-defined environments.
"HP created the x86 server market 25 years ago, and we have led this market ever since with innovations that have dramatically transformed the datacentre, such as HP Moonshot and HP Apollo. Now, we're setting the stage for the next quarter century with HP ProLiant Gen9 Servers and compute, which combines the best of traditional IT and cloud environments to enable a truly software-defined enterprise," said Antonio Neri, senior vice president and general manager, Servers and Networking, HP.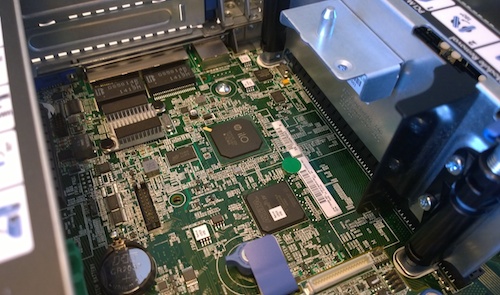 Image: Glorious close up inside the HP ProLiant DL380 Gen9 taken using Microsoft Windows Phone 8 Nokia Lumia 1020.
HP explains that ProLiant Gen9 Servers span four architectures:
blade,
rack,
tower and
scale-out
This (so says HP) provides triple compute capacity and increase efficiency across multiple workloads at a lower total cost of ownership with design optimisation and automation.
Uniquely Gen 9?
HP couldn't stop itself using the word "unique" (Ed – ouch! I thought only snowflakes were unique) at the ProLiant Gen 9 systems launch and pointed to PCI Express workload accelerators and HP DDR4 SmartMemory (that increases compute capacity) as part of the goodies on offer here.
HP SmartCache and FlexFabric adapters also feature here and these have been included to try and provide improved performance as they sit alongside converged management tool offerings which span servers, storage and networking.
The new HP ProLiant Gen9 servers will be available through HP and worldwide channel partners beginning Sept. 8.
The hashtag for those interested in this news is #Gen9 — but it is worth noting that this is also a popular hashtag used by the Christian community when discussing the merits of Genesis chapter 9.