The Business Case for Database Activity Monitoring?
Database activity monitoring is starting to attract even more attention, as privileged insiders such as database administrators can pose a significant risk to customer and proprietary data if allowed to act unchecked. Plus new applications and application services have created more entry points for outside attackers.
Database activity monitoring (DAM) is a technology that tracks and correlates database usage and reports back in the event of an anomaly.
Interested? This webinar may be of use.
Nigel Stanley
Practice Leader – Security, Bloor Research

Download this free guide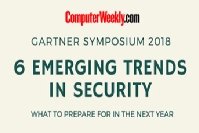 Infographic: 6 emerging trends in security
Download this infographic to discover 6 emerging trends in security that cybersecurity pros - and their employers - need to prep for in the next year. These ideas are taken from a keynote by analyst Peter Firstbrook at Gartner Symposium 2018.