Thin provisioning tips for optimal storage management
Organizations are burdened with humungous storage growth. This is where you can adopt thin-provisioning technology to optimally manage storage infrastructure.
Storage vendors are adopting the 'thin attitude' in full mode, by which I mean encouraging enterprises to adopt thin provisioning technology. Organizations today are witnessing storage growth like Jack's beanstalk. More storage-hungry applications along with stringent data retention demands are to blame for such monstrous storage growth. The biggest reason for storage proliferation is the compound increase in the unused and the unusable capacity of the static data. About 75% of allocated storage for enterprise applications remains unused in most enterprises.

Download this free guide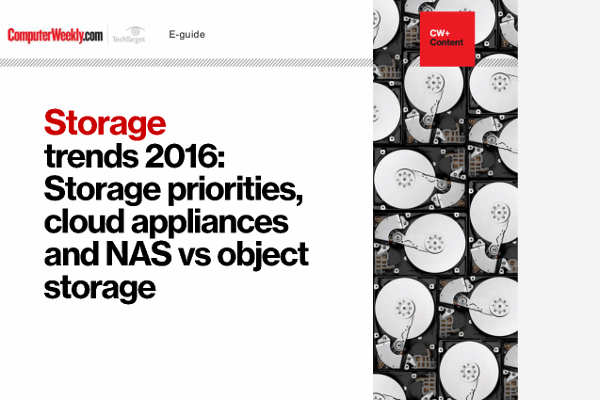 Storage trends 2016: Storage priorities, cloud appliances and NAS vs object storage
Our guide to the latest shifts in the Storage to-do list for IT departments, cloud appliance providers, and what to do with large volumes of unstructured data
By submitting your email address, you agree to receive emails regarding relevant topic offers from TechTarget and its partners. You can withdraw your consent at any time. Contact TechTarget at 275 Grove Street, Newton, MA.
You also agree that your personal information may be transferred and processed in the United States, and that you have read and agree to the Terms of Use and the Privacy Policy.

The whole problem lies in over-allocation and under-utilization of storage, which has been happening for the past few years. It is a big burden on technology infrastructure and storage costs. In such a scenario, there is much curiosity generated around thin provisioning technology. Whenever organizations are experience huge storage growth, along with the realization that provisioned storage is not used effectively, that is the time they can start considering this technology.
The makeover
Before going in for thin provisioning, an organization needs to know where it plans to take its IT infrastructure. Enterprises need to know the applications' expectations in terms of I/O performance, and after that comes the storage provisioning process. When it comes to the latter, there is a complete change of process in the way organizations provision storage to applications.
When it comes to the Indian enterprise scenario, understanding of the concept is really posing a challenge for the adoption of thin provisioning. The thin provisioning process and retraining of existing resources is the bottleneck in India. Retraining existing resources for the operations is essential to make them understand how storage provisioning can happen automatically, and the components to be monitored.
Can the data be tracked if there is a component failure? Absolutely! The high availability path and data availability path are not compromised on.
Thin-provisioning is based on the redundant arrays in disk (RAID) architecture, and vendors still stick to high availability features. So failure of a component does not mean that you lose data on the RAID set. When RAID thin provisioning is deployed in storage infrastructure, it is grouping of RAID to provide maximum performance and provide a storage pool to business applications so that there is no downtime. So the same theory works. When there is a hard-disk failure another hard-disk takes over.
As to the fees, it all depends on the vendors and the type of storage that an organization has. For modular storage, you require a one-time license fee. For enterprise storage infrastructure, one has to pay per terabyte.
About the author: Srinivas Rao is the head of pre-sales and solutions for HDS in India.
(As told to Jasmine Desai.)