Problem solve
Get help with specific problems with your technologies, process and projects.
IP based CCTVs = Better RoI on security compared to analog
Say goodbye to the costly blurred images of analog CCTVs, as you usher in the IP based CCTV devices. So where does the IP based CCTV solution score?

Download this free guide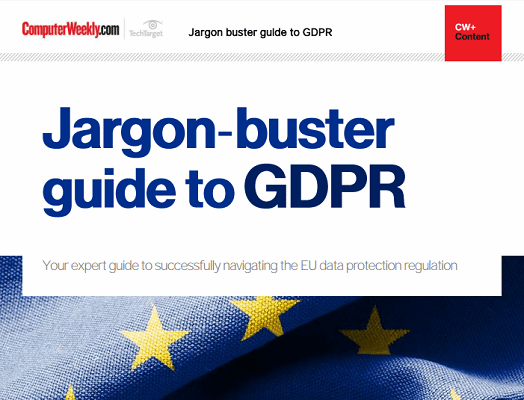 Jargon-buster guide to GDPR
The 10 most important things you need to know about GDPR, and a jargon-buster explanation for some of the key terminology.

By submitting your personal information, you agree that TechTarget and its partners may contact you regarding relevant content, products and special offers.

You also agree that your personal information may be transferred and processed in the United States, and that you have read and agree to the Terms of Use and the Privacy Policy.

The IP based CCTV setup has been emerging as the future option for conventional analog, the way DVD player has replaced VCR. These CCTV solutions present several advantages when compared to their analog counterparts. Here are some of the benefits of IP based CCTV products:

Images of very high resolution: IP based CCTVs provide good quality images, which are the biggest advantage of IP cameras. Typically, analog cameras have images travelling over long distances of video cables, which is not the case with IP based CCTVs.

Unlike CCTVs that have a base of IP, analog solutions put boosters and other equipment en route. Analog solutions crop the final resolution that appears on the screen, which is not the case with IP based CCTVs.

In the case of analog CCTV solutions, there is also a power cable that has to be accommodated in the wiring along with the feeds (and put insulation in place). It's not the same in the case of IP based CCTVs. Further, unlike IP based CCTV setups, analog CCTVs suffer from electric interference, which distorts the images. As the cables degenerate with time, there will be more interference on your monitor. While these are the biggest disadvantages of an analog system, they are absent in an IP based CCTV system.

In contrast, the IP based CCTV system gives you very clear signals and uses Internet cables (Cat 5 and Cat 6). So there is no need for a separate power cable for IP based CCTVs, since it uses Power over Ethernet (PoE).

Faster data transfer: Use of CCTVs based on IP enables faster data transfers, as transfer of images is performed with the help of LAN cables.

Easy positioning of cameras: In case of IP based CCTVs, the camera positions may be changed without any hassles, and they also offer the advantage of scalability. As per requirements, the number of cameras can increase for IP based CCTVs. However, there is the need for complete rewiring in an analog camera. Since all offices have LAN cables, there is no issue of rewiring at all, if organizations opt for IP based CCTVs.

Secured transmission: With regard to CCTVs having an IP base,
Analog CCTVs suffer from electric interference, which distorts the images. As the cables degenerate with time, there will be more interference on your monitor.
,
encryption is possible over transfer of images. Hence, though being available on a network exposes IP based CCTVs to hacking, encryption keeps such threats at bay.

In a hybrid solution, an analog camera make be added to the network by a digital video recorder (DVR); but then the connection is prone to attacks. But CCTV systems based on IP, provide secure transmission of images over the entire LAN.

Remote viewing: In case of IP based CCTVs, the security images can be accessed from a central control room for multiple locations. The control room need not be in the vicinity. This works well for a head office with various branch offices or the telecom sector where there may be many centers across rural areas. For CCTVs based on IP, remote viewing is also possible—only selected people need to be given the access to the particular root (IP address).

Video analytics: For IP based CCTVs, many clients are now using video analytics. This is more than just motion detection. Video analytics is all about logic set into the cameras to detect, along with motion, other things like humidity, temperature, color, movement, and noise level. For this, the camera of an IP based CCTV needs to be fed with these criteria, and it will automatically generate the alerts. In certain systems, these may be available on analog too, but that will be a very remote solution (which may have to be tested). In IP based CCTVs, this is very easily achievable.

Preventive analysis: Unlike analog cameras which have been used mainly for forensics, IP based CCTVs can be employed in pre-emptive analysis. The security criteria are defined and then you accordingly plan the IP based CCTV system. When there is deviation, the system sends an alert. When preventive analysis is the base of your security system, very strong processes are needed, and well trained operators to react to the alerts generated will become a must. These are two basic must-haves, as far as investments in IP based CCTV systems are concerned.

The cost factor: You cannot pinpoint a break-even point for deploying IP based CCTVs, as you generally use IP based CCTV solutions is for requirements of over 32 cameras. This is a debatable aspect, for this will vary across individual sites and requirements. The client should also be equipped with a very strong security foundation before investing money in IP based CCTV systems, because they are costly. However, IP based CCTVs may be cost-effective, as the cabling is already available (as compared to analog systems where you have to purchase the camera as well as the wiring).

Overall benefits: If a CIO intelligently uses CCTV cameras that have a base of IP and has the right people to manage them, the data could be cross-related to other security systems. Employee behavior and activity could also be monitored.

IP based CCTVs could be effectively employed for access control records (to keep track of leakage of competitive intelligence and third-party movement. This type of IP based CCTV security system can aid your pre-emptive and preventive measures.

About the author: Parag Vora is a consultant with Mahindra Special Services Group. He specializes in physical security and investigations. Vora assists many organizations across varied industry domains such as BFSI, IT/ITES, FMCG, hospitality, real estate, and manufacturing. He also focuses on providing effective physical security for critical infrastructure like power plants, as well as oil and gas installations of national importance.

(As told to Sharon D'Souza)