Problem solve
Get help with specific problems with your technologies, process and projects.
Green data center design best practices: Power and cooling approaches
The only way to circumvent power shortage is to build energy-efficient green data centers. These green data center design tips will be a good start.
Currently, there are two very important challenges haunting us in terms of handling the energy requirements of data centers. First of all, securing the supply of reliable and affordable energy remains a daunting task. Secondly, effecting the rapid transformation to a low-carbon, energy-efficient and environment-friendly system of energy supply remains an area that demands detailed planning. Optimizing existing data center infrastructure to make it a green data center infrastructure is a vital step that can be taken to face these challenges. This can be achieved using the following green data center design best practices.



Download this free guide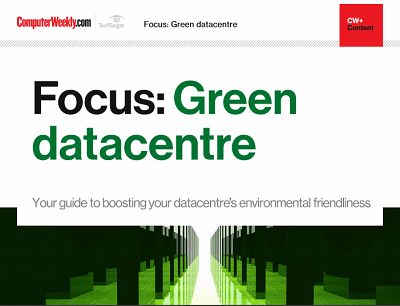 Datacentres - 5% of the world's global energy
Don't be a Trump. Datacentres currently represent 3 to 5% of the world's energy. That's the same as the entire aviation market. Your environment needs you! Do your part and click here.
By submitting your personal information, you agree that TechTarget and its partners may contact you regarding relevant content, products and special offers.
You also agree that your personal information may be transferred and processed in the United States, and that you have read and agree to the Terms of Use and the Privacy Policy.
Infrastructure efficiency

To start on the green data center design journey, you should measure your current data center infrastructure's efficiency (DCiE). This helps you determine the percentage of input power that goes to the IT loads; separating it from the rest that goes to power, cooling, and lighting equipment.

This input power percent consumed by IT can be calculated by using the following formula,

Power utilization effectiveness (PUE) = 1/DCiE

As part of the green data center design process, it's critical that has to have a realistic data center infrastructure efficiency plan. The highest efficiency data centers will invariably be high-density data centers. It is a misconception that density worsens efficiency. In fact, it enables very high efficiency in a properly designed data center or in the pod of an existing data center. (A pod is a 'mini data center' with its own cooling, thereby contributing no heat to the rest of the data center.)

Create clear density specifications with the following parameters during the green data center's design stages:


Room layout with rack locations
Row-by-row specifications
Inventory of planned IT
Strategic placement of IT
Design tools to match the specifications to size of rack, power and cooling elements

Apart from these, there are some more aspects that you should keep in mind during the green data center design process. Even UPS efficiency has a huge effect on data center efficiency, since the total IT load goes through it. Also, you can install more IT equipment in the data center's power and cooling 'envelope' for power saving. You should aim at having scalable power and cooling, as scalability reduces fixed losses in your green data center's design.

Cooling efficiency

For combating the second problem of cooling during green data center design, you can start by calculating the data center cooling efficiency with the following formula,

Cooling efficiency = Useful cooling power/ (Power consumed + Useful cooling power)

Cooling efficiency invariably leads to a greener and more efficient data center design. You can consider cooling in the row, which operates on either a hard floor or a raised floor. Hot aisle air enters from rear, preventing mixing of hot and cool air. Cool air is supplied to the cold aisle. Heat is captured and transferred to the heat rejection system.

The other option of row-based cooling eliminates the need for raised floors (particularly for small installations). Fan power consumption is reduced by 50% using such a green data center design approach. Temperature control by one degree can enhance savings by 4 %.

The next step in your green data center design plan is to have centrally integrated software for capacity and energy management. This software can help identify available capacity (even by rack) and further help prevent creation of stranded capacity. To sum up, a next-gen green data center requires not only a good design, but also a strong operational framework.

About the Author: Amit Verma is the country manager of projects (data centers) for American Power Conversion, a part of Schneider Electric. He has wide experience in the area of designing and building green field critical data center facilities, setting up wide area networks, as well as defining business continuity and disaster recovery processes spanning all industry sectors. He can be reached at amit.verma@apcc.com.

(As told to Jasmine Desai)

Read more on Datacentre energy efficiency and green IT