Data centre management and the future
A member of the ISACA security advisory group paints a clearer picture of data centre management nowadays, compared to what it used to be.
Observing data centre management about a decade ago, it would not have been unusual to see servers scattered around the various corners and vestibules of a facility, with cables stretched from switch to router to systems servicing critical business operations. When it came to the out-of-sight locality of the under-floor, cabling was a matter of leaving the old in situation, and lying new on top of the redundant cabling.

Download this free guide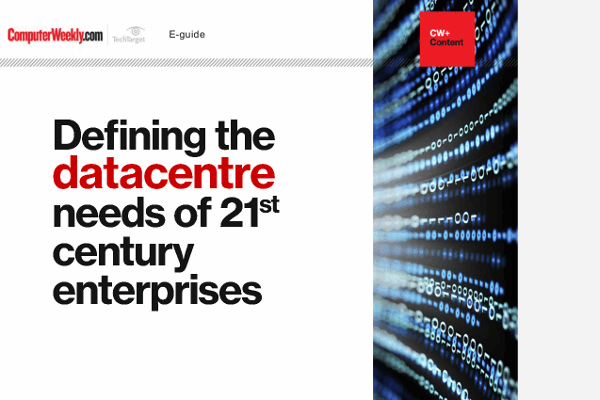 Defining the datacentre needs of 21st century enterprises
A collection of our most popular articles on datacentre management, including: Cloud vs. Colocation: Why both make sense for the enterprise right now; AWS at 10: How the cloud giant shook up enterprise IT and Life on the edge: The benefits of using micro datacenters
By submitting your personal information, you agree that TechTarget and its partners may contact you regarding relevant content, products and special offers.
You also agree that your personal information may be transferred and processed in the United States, and that you have read and agree to the Terms of Use and the Privacy Policy.

As for the cooling systems, on hot days it was not unusual to find strategically placed fans, or even the odd door wedged open, to assure that the electronic circuitry was maintained at a tolerant temperature and would continue to function.
Jump forward to 2011, and data centre management is very different for the enterprise: A lot of companies have made significant investments to create state-of-the-art environments for high-capacity business operations.
Cabling, which previously ran in random fashions, is now colour coded, labelled and runs through under-floor tidy trunking with fully documented structured and planned routes.

John Walker, member of ISACA and chief technology officer at Secure-Bastion Ltd.,
Gone are the days of scattered tin boxes, with VMware's complex virtualised environments, or blade servers. Cabling, which previously ran in random fashions, is now colour coded, labelled and runs through under-floor tidy trunking with fully documented structured and planned routes. In the interest of security, the modern day structure keeps its doors locked and is facilitated with cooling facilities.
Good data centre management: Example
In one very impressive UK deployment case, the company's planning was so in depth that it was designed with fully integrated physical security in the form of reed beds, anti-ram barriers, bomb- and bullet-proof windows, perimeter-wide Infrared CCTV and vibration-sensitive fence detection units. Power and Telco services are provisioned from different suppliers and routed into the facility via diverse routes.
The icing on the cake is in the operations centre, where the data centre is both monitored and managed. Sensors listening to the critical heartbeats, assure both early identification and reaction to any actual or suspected adverse conditions that could provoke a system or service outage.
Introducing cloud to ease data centre management
Cloud facilities, which invest in excess capacity to leverage unused physical resources for hosting to a client third party, will maximise the revenue opportunities of very high-cost facilities.
And what of the future? Expect the cloud world to drive bigger, better and more secure facilities, which will be affordable to a range of clients -- be they sole trader, a small or medium enterprise or even a corporation looking for additional capacity. Possibly in the age of austerity, the new economic opportunities born from cloud facilities may just host new and imaginative business ventures which will help fix damaged global economies.
John Walker is a member of ISACA security advisory group, chief technology officer at Secure-Bastion Ltd. and a contributor to SearchVirtualDataCentre.co.UK.