creative soul - Fotolia
Amazon will create 5,000 UK jobs in 2017
Online retailer Amazon is creating 5,000 jobs in the UK over the next year, including roles for software engineers and apprenticeships in engineering and logistics
Amazon has announced it will be creating 5,000 jobs across the UK in 2017. Among the roles the online retailer hopes to fill are jobs in software engineering, engineers and technicians.

Download this free guide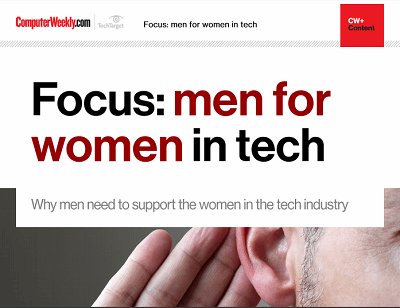 Men for women in tech
This guide showcases some of the men who are helping women to progress in the technology industry and the methods they are using to do so.
By submitting your personal information, you agree that TechTarget and its partners may contact you regarding relevant content, products and special offers.
You also agree that your personal information may be transferred and processed in the United States, and that you have read and agree to the Terms of Use and the Privacy Policy.
The additional 5,000 roles will increase the total number of Amazon's workforce in the UK to more than 24,000.
Doug Gurr, UK country manager at Amazon, said the roles were being created to ensure customers can be provided with even faster product delivery as the company continues to innovate.
"We are hiring for all types of roles from flight test engineers, software engineers and corporate managers in our development centres and head office, to operations managers, supervisors, engineers, service technicians, HR roles and order fulfilment roles in our fulfilment centres," said Gurr.
The UK is currently suffering from a digital skills gap which is costing the economy approximately £63bn a year, and many employers have said graduates are leaving university without the skills needed to fill roles.
When hiring its 5,000 workers, Amazon will aim to recruit people of all skills levels with different types of experience and education, including those looking for entry-level positions providing on-the-job training.
But the firm said it hopes to fill many of these positions from its existing seasonal employees, who are hired for short-term positions at points of the year when the firm is seeing its highest demand.
Some have argued that increasing the number of available digital apprenticeships could close the skills gap as apprentices could walk into roles and be trained while on the job.
Amazon will also be launching an apprenticeship programme in the UK to train hundreds of applicants in engineering, logistics and roles in its UK fulfilment centres.
Read more about technical skills
Technology giant Microsoft announces a programme designed to boost digital skills and tech job prospects across the UK.
Job site Indeed urges the UK's tech sector to pull together to attract more people into cyber security roles, as a study shows the UK skills gap is among the worst in the world.
This will run alongside AWS re:Start, launched by Amazon Web Services in 2017, which offers free training and job placement programmes to young people and those who need to re-enter the workplace, such as military veterans.
The AWS re:Start programme offers placement roles in software development and cloud technologies to more than 1,000 people by working with partners QA Consulting, The Prince's Trust, and the Ministry of Defence (MoD), as well as the AWS Partner Network (APN).
In the wake of the UK's decision to leave the European Union, the technology industry has expressed concerns that this could lead to a lack of availability of technology talent in the UK in the future.
More apprenticeships and the AWS re:Start programme are part of Amazon's wider push to develop skills in the UK.
The online merchant also runs a Career Choice programme, which offers 95% of the fees for courses designed to train its fulfilment centre staff to fill other in-demand roles across the UK, regardless of whether these future roles will be with Amazon.
Read more on IT jobs and recruitment