A US court has ordered Samsung to pay $119.6m to Apple for infringing two of its patents in the latest round of court battles between the two smartphone makers.
But the court in San Jose, California also ruled that Apple infringed Samsung's patents and awarded $158,000 in damages.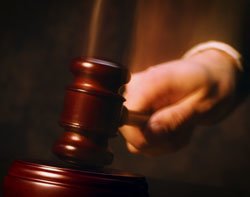 Apple had sought $2.2bn, accusing Samsung of infringing five patents, including the "slide to unlock" feature of iPhones. Apple is also calling for a ban on sales of several Samsung phones.
Samsung denied any wrongdoing and in turn sought $6m, accusing Apple of infringing two patents related to camera use and video transmission.
It is now up to judge Lucy Koh to decide if a sales ban is warranted, although legal experts say that is unlikely, reports the Guardian.
The two companies have been suing and counter suing each other in several different countries over the past three years regarding alleged patent infringements.
The latest court ruling comes two years after a separate US jury ordered Samsung to pay Apple $930m after finding it had used Apple technology, but the verdict is still being challenged by Samsung.
In August 2012, a US jury found Samsung guilty of infringing six Apple patents and awarded $1bn in damages in the most prominent of patent battles fought by the two companies. The award was later revised down to $840m.
Some commentators have said the two companies should call an end to their on-going patent war because of the reputational damage it is causing to both, according to the BBC.
Advocates of patent litigation claim it helps innovators protect their intellectual property, while opponents say it can be abused and hinder innovation.
Read more about the Apple/Samsung patent disputes
Email Alerts
Register now to receive ComputerWeekly.com IT-related news, guides and more, delivered to your inbox.
By submitting your personal information, you agree to receive emails regarding relevant products and special offers from TechTarget and its partners. You also agree that your personal information may be transferred and processed in the United States, and that you have read and agree to the
Terms of Use
and the
Privacy Policy
.