Reserve Bank of India and the future of mobile banking
The Reserve Bank of India (RBI) is disappointed with the take up of mobile banking as consumers show a lack of confidence
The Reserve Bank of India (RBI) is disappointed with the take up of mobile banking as consumers show a lack of confidence
In its half-yearly financial stability report the RBI said the take-up of mobile banking services has been below what is expected.
The lack of a revenue sharing model between banks and telcos is cited as one of the reasons for the slow adoption.
According to H R Khan, the deputy governor for RBI, "The need of the hour, therefore, is that the banks and the mobile operators reach a workable understanding while protecting their mutual interests. Such an approach would result in a win-win situation for both and, more importantly, serve the larger cause of public good of financial inclusion."

Download this free guide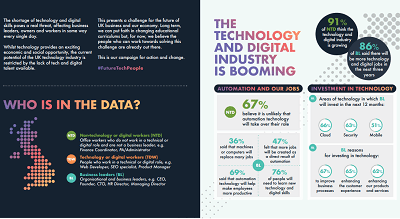 Infographic: Future-proofing UK technology
The shortage of technology and digital skills poses a real threat, affecting business leaders, owners and workers in some way every single day. Whilst technology provides an exciting economic and social opportunity, the current potential of the UK technology industry is restricted by the lack of tech and digital talent available. This presents a challenge for the future of UK business and our economy. Long term, we can put faith in changing educational curriculum but, for now, we believe the people who can work towards solving this challenge are already out there.
By submitting your personal information, you agree that TechTarget and its partners may contact you regarding relevant content, products and special offers.
You also agree that your personal information may be transferred and processed in the United States, and that you have read and agree to the Terms of Use and the Privacy Policy.
In May 2011, RBI recorded more than INR 0.91m in mobile transactions while the total amount of transaction stood at INR 1.28 billion. In the same period in May 2012, the amounts were INR 2.86 billion from a total of INR 3.34 million. This actually shows a growth rate of 200%. All Indian banks taken into account have more than 900 million mobile banking subscribers.
The RBI is the prime regulatory body for mobile banking and only the licensed banks are permitted to offer mobile banking. As of today, there are 78 banks including few Urban Corporative Banks (UCBs) and Regional Rural Banks (RRBs) that allow mobile transactions but the growth in the number of takers have been encouraging.
The RBI said the reason for the slow take-up can be put down to a number of factors. "Apart from the low levels of awareness and acceptance, the challenges in a faster growth can be attributed to the factors like inability of banks to seed the mobile number with the account number, compatibility of handsets with the mobile banking application, absence of collaboration and revenue sharing models between banks and mobile network operators (MNOs) and inability to get the Unstructured Supplementary Data channel in operation for mobile banking."
Sainath Gupta, the CEO of OnMobilePay said most of the mobile payment companies are still in market because they were able to raise huge funds and are counting on Mobile commerce revolution in India. "but since the market is so fragmented a distinct player can't emerge without which the situation will remain same."
Dewang Neralla, director of Financial Technologies Ltd said for mobile banking to prosper "…we need to provide safe and secure environment to end users, which can increase the transaction volume and ultimately can bring down the cost as well."
Read more on Managing IT and business issues