This article can also be found in the Premium Editorial Download "Computer Weekly: Banking with dinosaurs – the legacy IT crisis in financial services."
Download it now to read this article plus other related content.
LJA Miers, a family-run company that turns rubber and plastic into gaskets and seals, has chosen SAP's Business One ERP system, running on the supplier's in-memory database Hana, to re-cast its business.
Managing director Andrew Miers, the grandson of the founder of the Cambridgeshire-based rubber and plastics converter, says he "fell in love with" Business One on Hana when demonstrated by Prospettiva, an IT services company located nearby.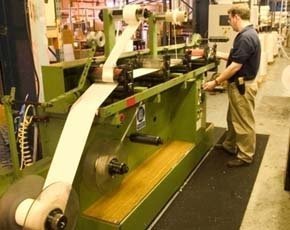 The company is the first UK company to implement SAP Business One version for SAP Hana.
LJA Miers has been running for almost 60 years and supplies rubber and plastics products to a variety of sectors, including the construction and automotive industries. Automotive accounts for 53% of sales, says Miers.
The economic crash of 2008 was a modernisation "eye-opener" for the firm, which had to lose half its 40 staff. It now employs 44, and is budgeting for an increase in revenue from £4.7m in 2013 to £5.4m in 2014. 
In addition, an allied company – Miers Construction Products – set up three years ago, turns over £5m, and will be run on Business One too. The combined revenue is getting beyond the manual grasp of its managing director, who was looking, in consequence, for a slicker way of running the two businesses, and is appointing a new finance director.
For more on Business One and Hana adoption
About a year ago the company began to plan an upgrade of its IT systems. One area of focus was the company's business processes, which required manual data input and so were very time consuming. This was further complicated by the fact that the company is spread across different sites – Airdrie, in Scotland, and Warrington.
The company had been using Lakeview ERP, but its Material Requirement Planning module did not suit Miers's requirements as well as Business One's, says Andrew Miers. 
At present, material requirement planning is done manually, on a fortnightly basis. The new system will enable the company to be more responsive, more real time and more efficient in terms of manpower.
The company also assessed Sage, Access ERP and NetSuite. "The competition was really tough," he says.
Governing his decision was a preference for the new. "When I buy a machine for the factory, I prefer to get the most up to date one. I followed the same philosophy here", says Miers. 
He was impressed with the speed of the reports generated by Hana – reports he currently spends four to five days producing each month for board meetings.
The software will cost £107,000 over three years, with £40,000 allocated to hardware. This compares favourably with the cost of a new machine for the factory, around £150,000. Miers anticipates payback within two years. He also sees a more computerised future for the company, with a terminal on each machine, generating operational information accessible by sales staff on the road with iPads.
"A salesman at a customer will be able to go into the system and see in real time what job is going through which machine. Automotive is so 'just in time' that that is important," he says.
Miers hopes for an inventory control benefit. If the company can reduce stockholding by 10%, that would represent a £120,000 cost saving.
The roll-out of SAP Business One with a manufacturing-specific software add-on from Variatec, is underway. The project is estimated to go live in January 2014.
"The ease of use swung it for me," he says. "And I had thought only big companies use SAP. The effort they have put in has convinced me that they can service a small customer.
"I think this will be transformative for our business."
Tony Marturano, managing director of Prospettiva, says: "LJA Miers was looking at a range of solutions, including SAP Business One on SQL, but when we mentioned the SAP Hana platform it was keen to hear more. We worked closely with SAP to deliver a live demo of the product, and this was the turning point."
Email Alerts
Register now to receive ComputerWeekly.com IT-related news, guides and more, delivered to your inbox.
By submitting your personal information, you agree to receive emails regarding relevant products and special offers from TechTarget and its partners. You also agree that your personal information may be transferred and processed in the United States, and that you have read and agree to the
Terms of Use
and the
Privacy Policy
.