Academic supercomputer gets 27 PB of HPC storage
Storage roundup: The University of Edinburgh's HECToR supercomputer has been given an HPC storage upgrade with 8 PB on an array and 19.5 PB on tape; Aptare storage analytics upgrade; and more news.
Academic supercomputer gets 27 PB of HPC storage
The University of Edinburgh-based HECToR (High-End Computing Terascale Resource) supercomputer has had an HPC storage upgrade that includes 7.8 petabytes (PB) in a DataDirect Networks array plus 19.5 PB of IBM tape.

Download this free guide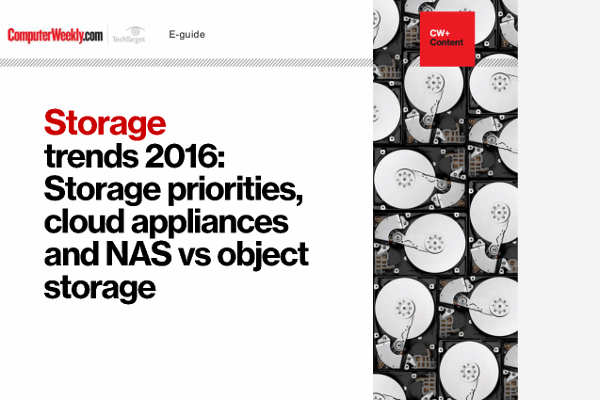 Storage trends 2016: Storage priorities, cloud appliances and NAS vs object storage
Our guide to the latest shifts in the Storage to-do list for IT departments, cloud appliance providers, and what to do with large volumes of unstructured data
By submitting your email address, you agree to receive emails regarding relevant topic offers from TechTarget and its partners. You can withdraw your consent at any time. Contact TechTarget at 275 Grove Street, Newton, MA.
You also agree that your personal information may be transferred and processed in the United States, and that you have read and agree to the Terms of Use and the Privacy Policy.

HECToR is available to academic researchers across the UK. The new storage environment is designed to be available for use with successive supercomputers and includes 7.8 PB in a DDN Storage Fusion Architecture (SFA) 10K-X storage appliance using IBM's General Parallel File System, plus 19.5 PB in an IBM System Storage TS3500 Tape Library.
The storage environment was designed and built by Sheffield-based HPC storage specialist OCF.
Professor Arthur Trew of the University of Edinburgh said, "Data persists beyond any computer, including HECToR, so we're prioritising data storage, management and analysis. Doing this enables us to upgrade HECToR and integrate its successor without fear of impacting access to research data."
Aptare storage analytics upgrade
Storage management tool vendor Aptare has announced enhanced storage array performance analytics and increased support for heterogeneous storage systems with its release of StorageConsole 8 Feature Pack Three. Aptare's StorageConsole Capacity Manager product scope now includes Internet-enabled, agentless data collection and capacity reporting for EMC's VNX file protocols, Celerra and Hitachi Unified Storage (HUS) storage products.
Druva launches file collaboration
Laptop and remote device backup software vendor Druva has announced inSync Share, which brings file sharing and collaboration functionality into the company's endpoint backup capabilities. inSync Share integrates with the end user's device of choice and works on multiple client devices including those based on Microsoft Windows, Mac, Linux, iOS (iPhones and iPads) and Android. inSync Share gives users the ability to create peer-to-peer file sharing, allowing locally stored files and folders to be securely synchronised and shared with other users within the organisation.
QStar launches LTFS archiving
QStar Technologies has announced the release of version 6.0 of QStar Archive Manager (formerly QStar HSM), which offers software-based Linear Tape File System LTFS (Linear Tape File System) capability for tape libraries. It can be deployed with Windows, Mac and Linux operating systems. With the use of QStar's LTFS volume-spanning technology, all media within the tape library can be seen as one or more network share. New LTFS media is automatically added to the set as the previous media becomes full.
Texas Memory Systems goes bootable
Texas Memory Systems has announced that TMS RamSan PCIe-based flash storage, including RamSan-70 products, are now bootable storage devices. This functionality is provided through a new firmware feature that allows most common servers to load operating systems directly from RamSan PCIe flash storage systems. The bootable RamSan-70 products are available with up to 900 GB of SLC flash storage capacity and capable of 1.5 million IOPS, 2.5 Gbps of bandwidth, and 30- to 60-microsecond latency.