Data analytics could deliver victory in the Euros
Goalkeepers have relied purely on gut instinct to save spot kicks, but they're increasingly relying on penalty data analytics to give them an edge in the pressure cooker environment of a shoot out.
There was a sickening inevitability about the nature of England's exit from the European Football Championship. In the nation's previous six penalty shootouts England had only triumphed once, against Spain in Euro 96 when the tournament was played on home soil. So crashing out to Italy, after Ashley Young smashed his kick against the crossbar before Ashley Cole's tame effort was saved by Gianluigi Buffon, hardly came as a surprise.

Download this free guide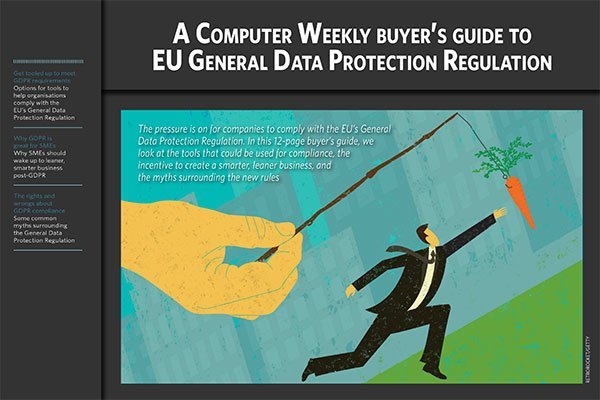 Computer Weekly's Buyer's Guide to GDPR Part 2
In this 12-page buyer's guide, we look at the tools that could be used for compliance, the incentive to create a smarter, leaner business, and the myths surrounding the new rules.
By submitting your personal information, you agree that TechTarget and its partners may contact you regarding relevant content, products and special offers.
You also agree that your personal information may be transferred and processed in the United States, and that you have read and agree to the Terms of Use and the Privacy Policy.
But the outcome might have been different had the England team taken more notice of what the data told them. Although it's been widely reported that England goalkeeper Joe Hart had studied 10 years' worth of penalties taken by members of the Italian squad prior to the quarter-final tie -- and was seemingly given additional instructions at the end of extra time by coaching staff via an iPad -- Hart was fooled by Italian playmaker Andrea Pirlo's dink straight down the middle of the goal.
However, the failing wasn't Hart's -- it was arguably England's performance analysis team who should have highlighted the fact that in the past, Pirlo had twice attempted the same 'Panenka' chipped penalty kick (in 2003 Pirlo chipped international teammate Gianluigi Buffon in a game between Juventus and AC Milan, but seven years later he failed to beat Barcelona keeper Jose Pinto in a friendly match with the same kick).
Historically, goalkeepers like Hart relied purely on gut instinct to save spot kicks, but they're increasingly relying on data to give them an edge in the pressure cooker environment of a shootout.
One of the companies benefitting from this trend is global sports data and statistics specialists Opta. Since 2004 the company, which provides game data to most of the leading football clubs in Europe and is working with four national teams at the 2012 European Championships, has analysed and logged the outcome of 6,000 penalties.
Opta's database comprises spot kicks taken during games in the five major European leagues -- England, Spain, Germany, France and Italy -- as well as the main league competitions in Holland, Portugal, Russia, America and Mexico, plus the main European club competitions, such as the Champions League (in total it records penalty data from 20 different domestic competitions and is currently considering adding leagues in Argentina and Brazil).
According to John Coulson, head of professional football services at Opta, the company's match analysts record between 1,600 to 2,000 'events' per game. "Every time the ball comes into contact with a player we log the player's name and his position on the pitch. We timestamp the contact and we use a whole series of descriptors to describe the event. So if it was a pass, we'll log whether or not it was a chip, a through ball, a cross or a knock on. And then we'll record the outcome – was it successful or not."
Penalty stats
Liverpool and England star Stewart Downing is only the second player in Premier League history to miss three penalties on the trot (his last three). Former Aston Villa striker Juan Pablo Angel was the first player to achieve this feat back in 2005.
Only two players have taken penalties in the Premier League with both their right and left foot – QPR's Bobby Zamora and former Newcastle player Obafemi Martins.
Source: Opta
For penalties the analysis is even more detailed, starting from how the penalty was conceded and where the incident took place. "Then, when the penalty is taken, we log which foot the player took it with and from the strikers' perspective we log in which direction the ball was kicked," explains Coulson. "We split the goal into six zones: bottom left, top left, centre high, centre low, top right, bottom right. We also log which way the goalkeeper dives regardless of whether or not he moves in the right direction and we assess the velocity of the penalty -- was it weak and hit straight down the middle or was it an extremely powerful shot."
Opta also gives the penalties it logs further context by providing information including at what time during a match the penalty was taken and how significant the game was -- for example, was it a 90th minute penalty to win a Champions League semi-final or was it the final goal in a 5-0 victory? This information is then put into a spreadsheet and presented to the club or national side's performance analysis team, who start mining the data looking for patterns.
Coulson readily admits that although the data can be a useful aid, "it's not a precise science" -- the best penalty takers tend to vary where they hit the ball and then there are players like ex-England striker Alan Shearer, who hit the ball so hard into the top corner that knowing where he was going to put the ball beforehand wouldn't make a blind bit of difference to the outcome.
However, if analysis of the data is done well it can make a big difference. Coulson cites a pattern he discovered when working as the performance and opposition analyst for the Ivory Coast national team at the 2010 World Cup.
"We were playing Portugal in the group stages and the Ivory Coast goalkeeper wanted to know which way to dive if Cristiano Ronaldo stepped up to take a penalty against him," recalls Coulson. "Ronaldo's quite an interesting example because he's got a pattern of hitting the ball to the bottom left. Of the last 47 penalties he's taken, 20 have been in the bottom left with the rest spread out around the goal. This doesn't necessarily mean that he's going to hit the ball in that direction every single time, but if you're a goalkeeper and you're going to gamble you might want to consider diving in that direction." Ronaldo's penalty in the 2011-12 Champions League semi-final shoot out for Real Madrid against Bayern Munich was saved by Bayern keeper Manuel Neuer, who guessed correctly by diving to the left.
With Spain about to go head-to-head with Portugal in what's sure to be a nail-bitingly close semi-final encounter, Spanish goalkeeper Iker Casillas would do well to take note of what the data is telling him should he face a 12-yard showdown with the Portuguese star.
Read more on Data quality management and governance