The government has announced £363m in investment to improve broadband speeds in homes and businesses in England and Scotland.
Counties in England are set to receive £294.8m, and those in Scotland £68.8m, as part of the £530m intended to provide 90% of UK homes with superfast broadband by 2015 and for everyone to have access to a minimum of 2Mbps.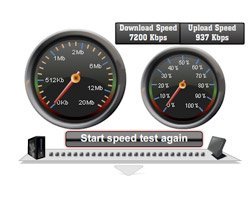 Culture secretary Jeremy Hunt recently announced that Northern Ireland is to be given £4.4m to improve broadband speeds and £56.7m is to go to Wales.
Most of the remaining £106m from the investment pot will act as a contingency fund in case more is needed to deliver the broadband roll-outs, a spokesman from the Department of Culture Media and Sport (DCMS) said.
A further £300m is due to be allocated in 2017, but the DCMS spokesman said the department had not yet laid out plans as to how this money would be allocated.
But Ovum senior analyst Matthew Howett warned that the £530m fund may not be enough for the government to deliver its objectives. "There is a real danger that this pot of money alone will not be enough. In other countries investment in broadband has been much higher," he said.
Howett said a combination of solutions is likely to be used. "There is by no means a silver bullet to achieve ubiquitous broadband coverage, and it is likely a patchwork answer will be needed. Clearly mobile is going to be very important here. When the spectrum is auctioned there will be conditions attached to the sale to provide a minimum of 2Mbps in rural areas by 2017 - although that in itself is not an ambitious target," he said.
To access the government's investment pot, local authorities will need to match the equivalent amount. "A lot of regions realise how important it is for the economy and they will do whatever they can to find the money. There are also a number of funds available to help them, especially from Europe," added Howett.
The private sector is expected to take superfast broadband to around two-thirds of UK households and businesses, mainly in urban areas where investment is commercially viable. According to the Broadband Stakeholder Group the cost of rolling out fibre broadband nationwide is between £5.1bn and £28.8bn.
For the remaining third, the government has looked at the areas where the market will fail to deliver superfast broadband to enough premises on its own, and the cost of that. It is not based on the number of people living or working in a county, said the DCMS.
The fund allocation will be a rolling process, with local authorities able to go at their own pace in putting together investment proposals, said the DCMS spokesman.
Broadband investment in England:
| Area | Investment allocation |
| --- | --- |
| Bedfordshire | £1m |
| Berkshire | £1.4m |
| Buckinghamshire | £2.1m |
| Cambridgeshire | £6.8m |
| Cheshire | £3.2m |
| Cumbria | £17.1 |
| Derbyshire | £7.4m |
| Devon and Somerset | £31m |
| Dorset | £9.4m |
| Durham | £7.8m |
| East Sussex | £10.6m |
| Essex | £6.5m |
| Gloucestershire | £8.1m |
| Greater Manchester | £0.99m |
| Hampshire and Isle of Wight | £8.2m |
| Herefordshire | £6.3m |
| Hertfordshire | £1.1m |
| Humber | £8.5m |
| Kent | £9.8m |
| Lancashire | £10.8m |
| Leicestershire | £3.8m |
| Lincolnshire | £14.3m |
| Merseyside | £5.7m |
| Norfolk | £15.4m |
| Northamptonshire | £4.1m |
| Northumberland | £7m |
| North Yorkshire | £18m |
| Nottinghamshire | £4.2m |
| Oxfordshire | £3.7m |
| Shropshire | £8.2m |
| Staffordshire | £7.4m |
| Suffolk | £11.7m |
| Surrey | £1.3m |
| Tees Valley | £0.7m |
| Tyne and Wear | £3.4m |
| Warwickshire | £4m |
| West of England | £1.3m |
| West Midlands | £0.6m |
| West Sussex | £6.3m |
| West Yorkshire | £6.3m |
| Wiltshire | £4.9m |
| Worcestershire | £3.6m |
Email Alerts
Register now to receive ComputerWeekly.com IT-related news, guides and more, delivered to your inbox.
By submitting your personal information, you agree to receive emails regarding relevant products and special offers from TechTarget and its partners. You also agree that your personal information may be transferred and processed in the United States, and that you have read and agree to the
Terms of Use
and the
Privacy Policy
.