Storage news highlights
Microsoft releases Data Protection Manager v.2; Fujitsu launches high-end storage systems; Symantec touts SRM user; Avamar improves VMware backup.
Microsoft unveils DPM v.2 with Exchange, SQL support
Microsoft is releasing a public beta of version 2 of its Data Protection Manager (DPM) disk-based backup product . DPM version 2 takes the product beyond file support to continuous backup and recovery of Microsoft Exchange Server, SQL Server and SharePoint Portal Server from disk. For a hands-on demonstration, check out DPM v.2 in the exhibit hall.

Fujitsu adds security, MAID and iSCSI to Eternus
Fujitsu Computer Systems Corp. will launch the Eternus 8000 and Eternus 4000 high-end storage arrays, offering advanced data security, iSCSI connectivity, RAID-6 support, MAID (massive array of idle disks) technology and 1.38 petabytes (PB) of internal storage.

Download this free guide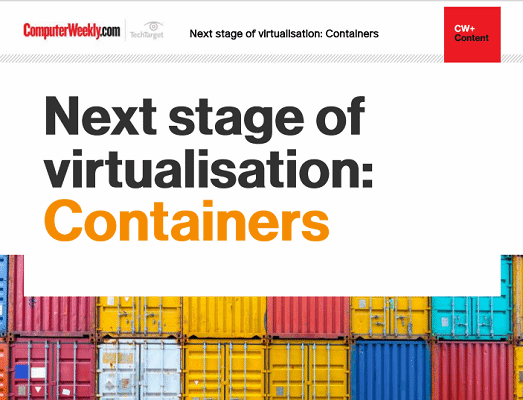 Next stage of virtualisation: Containers
Who doesn't love building blocks? Following the burst of cloud computing, containers are becoming a necessity for all organisational transformation and development. Follow us as we go through the technologies that complement and enhance their use, and outline a first-hand insight into the impact.

By submitting your personal information, you agree that TechTarget and its partners may contact you regarding relevant content, products and special offers.

You also agree that your personal information may be transferred and processed in the United States, and that you have read and agree to the Terms of Use and the Privacy Policy.

Both systems include the ability to automatically store data using 128-bit Advanced Encryption Standard (AES), minimising the risk of illegal or inappropriate data access when a disk is removed from an Eternus storage system, the company said.

Symantec touts storage resource management (SRM) user
Symantec will announce that Copley Press Inc. is using its Veritas CommandCentral Storage, NetBackup, Enterprise Vault and Live State Recovery software. According to Symantec, Copley Press, which owns 10 daily newspapers, including the San Diego Union-Tribune, and nine weekly newspapers, has reduced server recovery time from eight hours to one hour. Copley press also estimated that it has saved $10,000 per terabyte by enabling more efficient storage allocation. Copley Press owns the Copley News Service, a news syndicate with bureaus in California; Illinois; Washington, D.C.; and Mexico.

Avamar improves VMware backup
Avamar Technologies Inc. unveiled support for VMware Inc., helping users to back up and recover data from virtual machines. VMware allows users to run 10 or more virtual machines on a single server. This consolidation can cause challenges for traditional tape backup products, including long backup windows, high CPU utilisation and high network utilisation. Avamar's support for VMware allows users to reduce the size of backup data inside virtual machines, which reduces backup times and server resource utilisation. Avamar does this by identifying redundant subfile data segments within and across multiple virtual machines, host servers and sites.

Using patented data deduplication and global single instance storage (SIS) technology, Avamar ensures that backup data segments are stored only once on a global basis. This effectively reduces the amount of data moved and stored by up to 300 times, while providing daily full backups and rapid restores across existing local area LAN/WAN links, the company claims. As a result, users can reduce the amount of data transferred across a host server's shared infrastructure. It also enables replication of virtual machines to remote locations in support of disaster recovery objectives.

Kazeon splits product into three
Data classification maker Kazeon Systems Inc. announced Tuesday that it has split off its IS2000 product line into three groups of appliances, each aimed at a different sector of the data classification and search market. Each of the appliances has also been given added capabilities in its area of focus.

The IS2000-FRM (file resource management) appliance, which previously included only reporting on the location of files in back-end storage, will now perform migration between disparate devices for upgrades, as well as transfer migration between tiers of storage; the difference is that the latter migration process leaves links to the files in the primary storage.

The IS1200-SA (search appliance) will continue Kazeon's partnership with Google, but the appliance will also add backup search for both tape and disk.

The IS1200-ECS (enterprise content services) contains a policy engine that will allow users to manage document retention within storage systems; the ECS model will also perform migration to WORM or other compliance archives.

All of the updated capabilities in the new boxes can be purchased within a single IS1200 appliance as well, according to Sudhakar Muddu, founder and CEO of Kazeon.

Kazeon has several large original equipment manufacturer (OEM) deals for its indexing and classification products, the biggest of which is with Network Appliance Inc. (NetApp). The Kazeon Information Server IS1200-ECS, IS1200-SA and IS1200-FRM models will be available Oct. 24, 2006. No pricing information was available at press time.

Xiotech adds CDP
Xiotech Corp. announced continuous data protection (CDP) capabilities for Microsoft Windows 2003 environments with the release of new additions to its TimeScale line of appliances, the TimeScale 200 and TimeScale 300. The new appliances continuously journal information from any point in time and are based on IP from InMage Systems, Inc.; the 300 appliance also includes replication.

Licenses for the product are offered on a per-server basis, starting at approximately $13,000 for the initial software license and the appliance hardware, $5,000 each for up to five additional servers and $2,500 each for more than five servers.

Acopia demonstrates application performance tuning
File virtualisation switch maker Acopia Networks Inc. will demonstrate new configurations that utilise tiered storage to increase application performance. In its own lab tests, when a specific application file set was moved to a high-performance storage device, application throughput increased by almost 30 times, compared to similar tests run with the same file set residing on a popular modern network attached storage (NAS) system, the company said.

Signiant releases remote backup/disaster recovery software
Signiant Inc. announced the availability of Mobilise for Remote Data Protection, centrally managed software that consolidates backup and long-distance disaster recovery operations for heterogeneous IT environments in remote and branch offices.

In a separate release, Signiant and Sepaton Inc. will announce a partnership in which Mobilise for Remote Data Protection (RDP) will be marketed alongside Sepaton's S2100-ES2 virtual tape library (VTL).

Incipient launches network-based storage virtualisation software
Incipient Inc. unveiled its long-awaited Network Storage Platform (iNSP) software suite, for switch-based storage virtualisation, available initially for Cisco Systems Inc. storage switches. The product will be generally available this fall. At Storage Decisions, Incipient customer Jeff Boles, IT manager for the City of Mesa, Ariz., will participate on a storage virtualisation panel discussing his experience testing and using the product.
Read more on Integration software and middleware