Nortel out, Cisco in at West Australia's Department of Treasury and Finance
West Australia's Department of Treasury and Finance is standardising on Cisco LAN kit at the expense of Nortel products.
Nortel is heading for the corporate graveyard and so are its products at West Australia's Department of Treasury and Financ, which has decided to standardise on Cisco equipment.

Download this free guide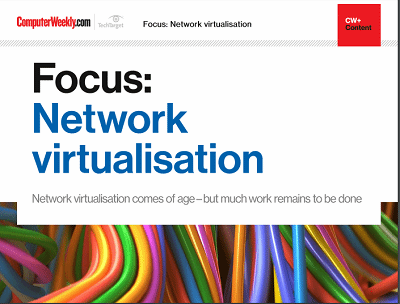 Network Virtualisation coming of age
Join Computer Weekly as they revieww how virtualised networks can help enterprise organisations save money on their wide area networking (WAN) infrastructure and give some tips on strategy.
By submitting your personal information, you agree that TechTarget and its partners may contact you regarding relevant content, products and special offers.
You also agree that your personal information may be transferred and processed in the United States, and that you have read and agree to the Terms of Use and the Privacy Policy.
The decision will be felt at the Department's offices at the Mason Bird Building in the Perth suburb of Cannington, where the Shared Services Unit plies its trade using a Nortel-powered LAN.
The rest of the Department, however, uses Cisco kit, leading to a tender for new Cisco kit as the Department has "has invested heavily in its people, processes and tools to manage its environment" and wants to create a single-vendor environment to simplify its operations.
The successful tenderer will therefore be expected to provide a long list of Cisco equipment, then replace the Nortel kit and integrate the new LAN infrastructure. Hardware and software maintenance is also up for grabs.
The Department hopes for delivery of its desired products on May 14th, 2010, and says the Cisco products it plans to acquire comprise:
Product

Description

Qty

CORE/DISTRIBUTION

WS-C4506-E

Cat4500 E-Series 6-Slot Chassis, fan, no ps

2

PWR-C45-2800ACV

Catalyst 4500 2800W AC Power Supply (Data and PoE)

7

PWR-C45-2800ACV/2

Catalyst 4500 2800W AC Power Supply (Data and PoE)

7

CAB-AC-16A-AUS

Power Cord, 250VAC, 16A, Australia C19

7

S45EIPBK9-12253SG

Cisco CAT4500E IOS IP BASE SSH

14

WS-X45-SUP6-E

Catalyst 4500 E-Series Sup 6-E, 2x10GE(X2) w/ Twin Gig

14

GLC-SX-MM

GE SFP, LC connector SX transceiver

1

WS-X4648-RJ45V+E

Catalyst 4500 E-Series 48-Port PoE+ Ready 10/100/1000(RJ45)

3

WS-X4606-X2-E

Catalyst 4500 E-Series 6-Port 10GbE (X2)

2

X2-10GB-LRM

10GBASE-LRM X2 Module

4

AIR-CT5508-12-K9

Cisco 5508 Series Wireless Controller for up to 12 APs

1

Floor – Basement

WS-C4506E-S6L-4200

4506-E Chassis, Two 24G PoEP Line Cards, Sup6L-E, 4200W PS

1

GLC-SX-MM

GE SFP; LC connector SX transceiver

2

PWR-C45-4200ACV/2

Catalyst 4500 4200W AC dual input Power Supply (Data + PoE)

1

CAB-AC-16A-AUS

Power Cord, 250VAC, 16A, Australia C19

4

Floor – Ground

WS-C4506E-S6L-2800

4506-E Chassis, Two 24G PoEP Line Cards, Sup6L-E, 2800W PS

1

X2-10GB-LRM

10GBASE-LRM X2 Module

2

PWR-C45-2800ACV/2

Catalyst 4500 2800W AC Power Supply (Data and PoE)

1

CAB-AC-16A-AUS

Power Cord, 250VAC, 16A, Australia C19

2

AIR-LAP1142N

802.11a/g/n Fixed Unified AP; Int Ant;

2

Floor – 2nd Floor

WS-C4506E-S6L-4200

4506-E Chassis, Two 24G PoEP Line Cards, Sup6L-E, 4200W PS

4

X2-10GB-LRM

10GBASE-LRM X2 Module

8

PWR-C45-4200ACV/2

Catalyst 4500 4200W AC dual input Power Supply (Data + PoE)

4

WS-X4648-RJ45V+E

Catalyst 4500 E-Series 48-Port PoE+ Ready 10/100/1000(RJ45)

4

CAB-AC-16A-AUS

Power Cord, 250VAC, 16A, Australia C19

16

AIR-LAP1142N

802.11a/g/n Fixed Unified AP; Int Ant;

4

Floor – 3rd Floor

WS-C4506E-S6L-4200

4506-E Chassis, Two 24G PoEP Line Cards, Sup6L-E, 4200W PS

4

X2-10GB-LRM

10GBASE-LRM X2 Module

8

PWR-C45-4200ACV/2

Catalyst 4500 4200W AC dual input Power Supply (Data + PoE)

4

WS-X4648-RJ45V+E

Catalyst 4500 E-Series 48-Port PoE+ Ready 10/100/1000(RJ45)

4

CAB-AC-16A-AUS

Power Cord, 250VAC, 16A, Australia C19

16

AIR-LAP1142N

802.11a/g/n Fixed Unified AP; Int Ant;

4
Read more on Data centre networking