The Identity and Passport Service (IPS) plans to migrate its ten-year-old passport IT systems to a service oriented architecture under a £385m, 10-year contract with CSC signed today.
The IPS, which had originally hired Siemens to install bespoke passport applications based on Oracle, now wants to remove paper processing from the back office and increase counter-fraud measures.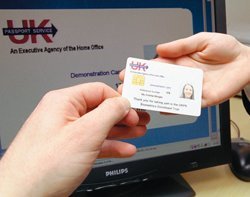 The IPS told Computer Weekly, "We will be retaining Oracle data structures but replacing the bespoke applications with a variety of commercial off-the-shelf products configured for use in this environment."
These will include:
GUI: Weblogic web-based interface
Application: Tibco iProcess workflow and BPM ilog rules
Middleware: Tibco Business Works ESB and EMS
Database: Oracle
The IPS has awarded a separate contract to IBM, worth £265m over 10 years. It will provide the National Biometrics Information Service (NBIS), which is described as the government's strategic solution for civil use of biometrics.
NBIS will replace the UK Border Agency's Immigration and Asylum Fingerprint System (IAFS), which is operated by Sagem and runs Sagem's proprietary biometric matching software on a Versant database.
IBM has indicated that it will subcontract the supply of a biometric matching system to Sagem, and may host the Sagem software on its iDataPlex hardware. The plan is to use many IBM software and hardware products across the rest of the solution.
The IPS said, "The biometric matching system is the critical component that undertakes fingerprint and face comparisons and image storage.
"Although a Sagem matching system will be used in the first instance, NBIS is architected to minimise the overhead of making changes, either to add new types of biometric or to replace the matching system in its entirety. At its peak, the matching system will have to process in excess of 50,000 fingerprint transactions per day and contain over 100 million fingerprint records."
Specific components of the new IBM system include:
Server operating systems: mix of AIX, Windows 2008 and Red Hat Linux
Middleware: Websphere
Databases: mix of DB2, Oracle, SQL Server
Hardware: IBM System p and x Servers, IBM iDataplex
CSC to take over 350 passports IT staff >>
ID cards could be chip and Pin >>
Email Alerts
Register now to receive ComputerWeekly.com IT-related news, guides and more, delivered to your inbox.
By submitting your personal information, you agree to receive emails regarding relevant products and special offers from TechTarget and its partners. You also agree that your personal information may be transferred and processed in the United States, and that you have read and agree to the
Terms of Use
and the
Privacy Policy
.