People who have suffered traumatic brain injuries and are unable to speak are being given the chance to communicate by using brainwaves to control a specially developed laptop.
The system has been devised by a computer researcher at the University of Portsmouth. Paul Gnanayutham's system uses patients' brainwaves and eye and muscular movements (together called biopotentials) to move a cursor on a computer screen towards target points.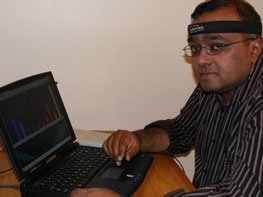 When the target points on the prototype device are activated, this action can then be converted into responses such as 'yes', 'no', 'thank you', turning on of an electrical appliance such as a television, or opening a link to an internet page of the patient's choice. The responses can be customised for the individual.
All that is now needed for the system to benefit more people is funding to turn it into a product that can be bought and used without expert help.
Gnanayutham said, "This technology has been around, but very few people have used it for anything worthwhile. I worked with traumatic brain injured participants who were paraplegics, non-verbal and tube fed to give them a voice and the ability to say 'yes' or 'no' on a computer screen by using their brainwaves.
"Learning how to navigate using their facial muscles or brainwaves isn't easy and can take months. I worked for eight months with one young man who hadn't communicated after his brain stem was broken in an accident. His mother knew he was 'there' and wasn't giving up on her son, but there had been no sign, no movement, nothing until he started using the brain wave system."
The system is non-invasive and works by attaching probes on an Alice band worn around the head, which picks up brainwaves, muscle and eye movement signals at the forehead.
These signals are then fed into an amplifier which can cut out external noise and listen only to the bio-potentials of the person wearing the electrodes, so the computer sees the brain-body interface as the cursor's control.
Chess computer to get inside players' minds >>
Power napping proved to aid concentration >>
Email Alerts
Register now to receive ComputerWeekly.com IT-related news, guides and more, delivered to your inbox.
By submitting your personal information, you agree to receive emails regarding relevant products and special offers from TechTarget and its partners. You also agree that your personal information may be transferred and processed in the United States, and that you have read and agree to the
Terms of Use
and the
Privacy Policy
.