BT shares slide 30% as global IT services arm falters
BT saw its share price slide 30% last week after posting a profits warning for the half year.
The firm will be releasing its results for the second...
BT saw its share price slide 30% last week after posting a profits warning for the half year.
The firm will be releasing its results for the second quarter and first six months on 13 November, but told the market in advance of the problems its BT Global Services arm was experiencing.

Download this free guide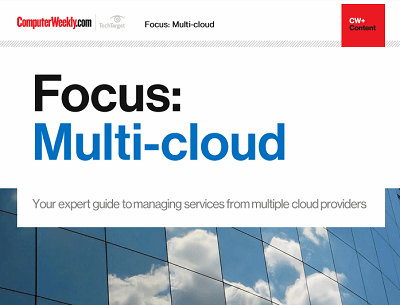 Mixing and matching your cloud options
Many IT leaders are increasingly coming round to the idea that sourcing services from one or more providers might be the best way to go. From a cost and resiliency perspective, some workloads might work better in one cloud over another. Or a certain provider might boast some functionality that suits a particular process the enterprise is looking to implement, but falls short in other areas, prompting the company to adopt a mix-and-match procurement strategy. Join us as Computer Weekly takes a closer look at the multi-cloud approach and what providers are doing to capitalise on the trend.
By submitting your personal information, you agree that TechTarget and its partners may contact you regarding relevant content, products and special offers.
You also agree that your personal information may be transferred and processed in the United States, and that you have read and agree to the Terms of Use and the Privacy Policy.
The fall-out has seen the head of the IT services unit leave the group.
The fact that the IT services business is performing so badly was of concern to the market, considering that BT has spent hundreds of millions of pounds in the last two years snapping up IT services companies around the world.
BT said of the second quarter ended 30 September, "We expect to report that group revenue will be ahead of expectations but that EBITDA (earnings before interest, taxes, depreciation and amortization) and earnings per share will be slightly below expectations.
"We anticipate that BT Retail, BT Wholesale, Openreach and Other activities will deliver results in line with or ahead of expectations."
It added, "However, the performance of BT Global Services will be disappointing. We expect revenue growth in this division will remain strong, up 15% year on year, but EBITDA of around £120m will be significantly below expectations. The fall in EBITDA is due to slower than anticipated delivery of efficiency savings and the continued decline in higher margin UK business."
Ian Livingston, chief executive at BT, said, "BT is performing in line with or ahead of expectations in all but one of its divisions, so the results in BT Global Services are particularly disappointing. We acknowledge that the performance in this part of the group is unsatisfactory and are committed to taking decisive action to rectify the situation.
"BT Global Services already has a number of cost efficiency and margin improvement initiatives in place and we are now focused on speeding up the execution of these initiatives which will deliver margin improvement going forward. We intend to set new targets for this division as improved performance is delivered."
Francois Barrault resigned as chief executive of BT Global Services and as a BT Group board director the day before the profits warning.
He has been replaced by Hanif Lalani, previously group finance director.
Barrault joined BT in 2004 as head of BT International with responsibility for BT Global Services' non-UK operations. He only became chief executive of BT Global Services and a BT Group board member in April 2007.
BT said the management of BT Global Services will be further strengthened by the appointment of Ray Leclercq as chief financial officer reporting to Lalani.
Leclercq is currently chief financial officer of broadband arm Openreach. An announcement regarding a new group finance director will be made in due course, said BT.
Read more on IT outsourcing