Government launches research project to combat identity theft
A government-funded research project will be launched in October to help develop the next generation of secure identity management systems.
A government-funded research project will be launched in October to help develop the next generation of secure identity management systems.
The Home Office estimates that the cost of identity theft to the UK economy is £1.7bn a year.
The new research will see experts at Cranfield University, Royal Holloway University of London, Salford University, Consult Hyperion and Sunderland City Council teaming up on a three-year project.

Download this free guide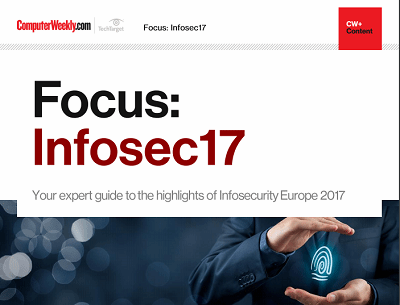 From forensic cyber to encryption: InfoSec17
Security technologist Bruce Schneier's insights and warnings around the regulation of IoT security and forensic cyber psychologist Mary Aiken's comments around the tensions between encryption and state security were the top highlights of the keynote presentations at Infosecurity Europe 2017 in London.
By submitting your personal information, you agree that TechTarget and its partners may contact you regarding relevant content, products and special offers.
You also agree that your personal information may be transferred and processed in the United States, and that you have read and agree to the Terms of Use and the Privacy Policy.
The consortium will investigate topics of privacy and consent for identity management, with the aim of helping people and organisations make well-informed judgements about their choice of online services, how they use them, and what information they give out.
Cranfield University lead researcher Debi Ashenden, said, "There is a concern that people aren't really clear about the value of their unique identity.
"Our research will engage people in current debates about privacy and consent issues, find out how they think about their identity and what decisions they make. We hope the discussions will provide invaluable information to help develop new identity management tools."
The project, titled Vome (Visualisation and Other Methods of Expression), is part of a £5.5m investment by the Technology Strategy Board, Engineering and Physical Sciences Research Council (EPSRC), and Economic and Social Research Council (ESRC).
This investment will also fund two other projects looking into different aspects of identity protection.
Commenting on the Technology Strategy Board's support for the project, Andrew Tyrer, who leads the organisation's network security innovation platform, said, "Governments and businesses around the world will make substantial investments in identity management infrastructures over the next few years.
"These procurements will need to inspire public confidence that issues around improving privacy and enabling informed consent have been fully integrated. This research will be key to ensuring that the hardware and software required will meet public expectations about these important issues."
The project results are due to be published in September 2011.
entity management:
Identity management: an essential guide for IT professionals >>