Transoft middleware allows database transfer without new code
Middleware from legacy software specialist Transoft could help businesses modernise their Cobol...
This Article Covers
RELATED TOPICS
Middleware from legacy software specialist Transoft could help businesses modernise their Cobol applications without the need to change any code.

Download this free guide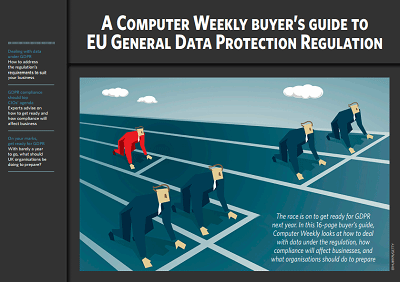 Computer Weekly's Buyer's Guide to GDPR
The race is on to get ready for GDPR next year. Computer Weekly looks at how to deal with data under the regulation, how compliance will affect businesses, and what organisations should do to prepare.
By submitting your personal information, you agree that TechTarget and its partners may contact you regarding relevant content, products and special offers.
You also agree that your personal information may be transferred and processed in the United States, and that you have read and agree to the Terms of Use and the Privacy Policy.
The software, called CIO, has been used by US health insurer Reserve National, to migrate a mainframe database containing six million records onto a Microsoft SQL Server relational database without having to modify any of its Cobol applications.
With over 3000 Cobol applications, Reserve National has more than 3,000 Cobol applications, and did not want to make any modifications to the legacy code.
The company worked with Transoftto develop CIO, a database middleware product that uses SQL Server to store and retrieve mainframe data. The product translates data between the relational format used by SQL Server and the hierarchical database format required by the insurance firm's 3,000 Cobol applications.
Raymund Gordon, vice-president, information technology at Reserve National, said, "All 3,000 Cobol applications can now access the SQL Server database, without any modification in the code." Reserve National took one afternoon to migrate a six million record database from the legacy hierachical data format to MS SQL Server. "Once loaded into SQL Server all I needed to do was change the environment variable to tell the Cobol application to use SQL Server as its data source."
The CIO software and SQL Server run on two Dell PowerEdge 2600 quad-core servers, one for production, the second for testing. The CPU load of SQL Server on the Dell never exceeds 20%, according to Gordon. He said this means that the server is not overworked and has plenty of spare capacity.
Gordon kept some databases in the legacy hierachical format. He only moved the databases that required dynamic data access onto SQL Server, as it generally offers far better performance for this type of database access.
Gordon said the overall performance of the IT system at Reserve Mutual had improved by moving these databases onto SQL Server, since the hierachical databases no longer needed to support dynamic access.
Hierarchical databases used by Cobol applications are unsuitable for certain types of database query. Businesses that need to run such applications often embark on complex migration projects to move the Cobol code on to a relational database server such as Microsoft SQL Server, Oracle or DB/2.
Read more on Server hardware