NHS trusts have reported nearly 300 incidents that put patients' safety at risk since 2005, when the National Programme for IT began systematic records.
The disclosure provides evidence that new IT systems in the health service can put the safety and health of patients at risk if they fail or are used wrongly.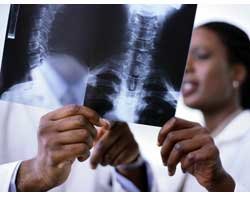 Maureen Baker, national lead for clinical safety at NHS Connecting for Health, revealed the incidents at a conference in Harrogate.
"We have had just under 300 incidents in two and half years," she said. "They cover just about every area that CfH has activity in."
It has also emerged that ministers launched the NPfIT in 2002 with no formal structure for identifying incidents that could affect patient safety.
Many of the incidents reported under the safety scheme centre on radiology information systems and picture archiving and communication systems (Pacs), which allow digital X-ray images to be stored, retrieved and distributed to computer screens.
One incident involved two NHS trusts that had connected Pacs systems. Both used similar ID numbers to store and retrieve images, but some numbers were duplicated, so sometimes a correct number would retrieve the wrong X-ray image.
There have also been incidents of drugs "mis-mapping", which could lead to the wrong drugs being given, or a clash of medication occurring.
NHS Connecting for Health, which runs part of the national programme, put a new structure for reporting incidents into place only after DNV consulting compiled a highly critical - and unpublished - risk assessment of the safety of the NPfIT in 2004.
Speaking at the HC2008 conference, Baker said there had been a big improvement in mechanisms for reporting incidents and dealing with them since 2005, three years after the launch of NPfIT.
"Of the incidents we have dealt with, we are not aware of a patient actually being harmed," she said. "It is very much the potential of being harmed. We looked to see if anyone has been harmed. We have not identified yet that that has been the case.
"We are able to detect when something goes wrong in any of the systems and quickly pick that up, address it and make it safe."
Last year the partner of a patient who died in hospital complained to the General Medical Council that X-rays on a Pacs system may have been mixed up. She told Computer Weekly she is waiting for a date for a judicial review over whether there should be a fresh inquest.
It is not known whether this was one of the 290 incidents that put patients' safety at risk.
The annual healthcare IT conference at Harrogate is organised by the British Computer Society.
Full story on IT Projects blog
Email Alerts
Register now to receive ComputerWeekly.com IT-related news, guides and more, delivered to your inbox.
By submitting your personal information, you agree to receive emails regarding relevant products and special offers from TechTarget and its partners. You also agree that your personal information may be transferred and processed in the United States, and that you have read and agree to the
Terms of Use
and the
Privacy Policy
.