Website investment crucial as UK shoppers shift to online
Retail IT directors will come under pressure to invest in their corporate websites following a surge in online sales over Christmas helped push total UK online sales up by 75% to £53bn during 2007.
Retail IT directors will come under pressure to invest in their corporate websites following a surge in online sales over Christmas helped push total UK online sales up by 75% to £53bn during 2007.

Download this free guide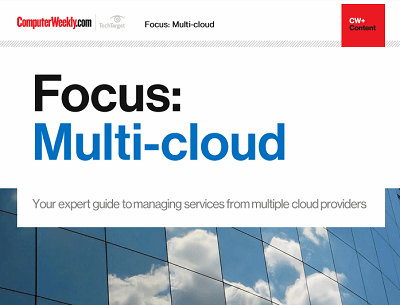 Mixing and matching your cloud options
Many IT leaders are increasingly coming round to the idea that sourcing services from one or more providers might be the best way to go. From a cost and resiliency perspective, some workloads might work better in one cloud over another. Or a certain provider might boast some functionality that suits a particular process the enterprise is looking to implement, but falls short in other areas, prompting the company to adopt a mix-and-match procurement strategy. Join us as Computer Weekly takes a closer look at the multi-cloud approach and what providers are doing to capitalise on the trend.
By submitting your personal information, you agree that TechTarget and its partners may contact you regarding relevant content, products and special offers.
You also agree that your personal information may be transferred and processed in the United States, and that you have read and agree to the Terms of Use and the Privacy Policy.
Online retail analyst IMRG will warn in a report this week that retailers who refuse to sell online risk losing half their business as internet shopping heads towards capturing 50% of Britain's £300bn-a-year retail market by 2018.
The shift to online shopping will put IT directors under pressure to ensure retail websites are easy and safe to use, and that their supply chains can deliver goods on time to the store and the customers, said industry watchers.
"Getting the best from the supply chain is going to be a huge issue especially as the internet enables people to leave shopping until the last minute," said Mike Goldiman, a retail analyst with Pragma Consulting,
Large retailers who issued Christmas trading figures last week reported that the growth rate of internet sales had outstripped every other sales channel.
Sainsbury's chief executive Justin King said the supermarket chain's online operation had grown by over 40% during the last quarter alone.
"In the week before Christmas we delivered 90,000 orders, up over 50% on the previous year," King said. "We now operate the [online] service from an additional nine stores."
Marks & Spencer boss Stuart Rose said that a new Amazon platform to support its Direct online business underpinned the company's aim to take £500m a year in online sales by 2010.
"The relaunch of our website in March 2007 has led to a step change in activity, with sales up 60%, driven by significant improvement in traffic and conversion levels," Rose said.
Andrew Clarke, IT director or Arcadia, which owns the Top Shop, Dorothy Perkins, Miss Selfrdiges and Burton brands, said that the internet was at the heart of the group's strategy.
"Online sales and using our websites as an effective communication tool to our customers are now pivotal parts of the brands' strategies," he said.
Harrods IT director David Llamas said that outsourcing its online operation had allowed it to meet rising online demand.
"This gives us the scalability and flexibility we need to cope with expansion, and ensure that it gives our customers the guaranteed level of service they associate with Harrods," he said.
In its report, due out later this week, IMRG says that consumers spent nearly £18bn over the Christmas period, with around £84m spent online on Christmas Day alone.
Online Highlights
17% of consumer spending on retail, travel and leisure now takes place online, and the figure could rise to 50% by 2018.
4.4 million Britons (one in 13 of the population) bought goods over the internet on Christmas Day. This was a 269% increase on the 2006 figure.
Internet shopping could account for half of Britain's £300bn retail market by 2018.
Consumers spent a record £53bn online this year, up 75% on last year and a market share of 17%. More than £17.5bn was spent online since the start of October.
Source: IMRG/Capgemini
Read more on IT outsourcing