This Content Component encountered an error
This Content Component encountered an error
This Content Component encountered an error
With the debate around the credit crunch still raging and the finger of blame being pointed in a number of directions, what have we learned from the events that have hit the UK financial markets so hard over the last few weeks?

Download this free guide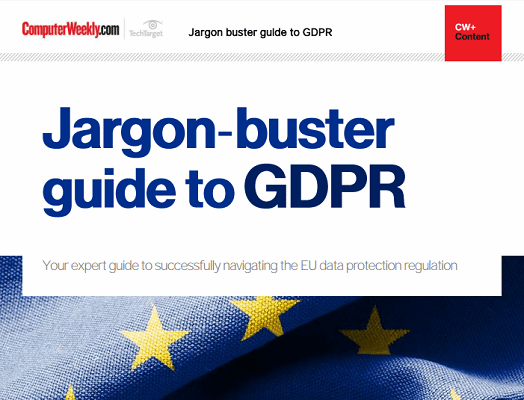 Jargon-buster guide to GDPR
The 10 most important things you need to know about GDPR, and a jargon-buster explanation for some of the key terminology.
By submitting your personal information, you agree that TechTarget and its partners may contact you regarding relevant content, products and special offers.
You also agree that your personal information may be transferred and processed in the United States, and that you have read and agree to the Terms of Use and the Privacy Policy.
The credit crunch and the subsequent run on Northern Rock by consumers concerned they may lose their life savings had a knock on effect on other financial institutions that saw their share price drop. For a few days, despite the Bank of England stepping in and giving a 100% guarantee for retail savings deposits, a media frenzy whipped up consumer concern to such an extent that many were reported as saying that they had lost trust in the British banking system.
While the credit crunch and run on Northern Rock most obviously affected savers, it will of course have a knock on effect on how lending decisions are made. Many are asking have financial institutions been lax in their lending criteria. And have they taken their eye off the ball in terms of affordability assessment of borrowers?
The biggest trend in traditional credit risk management is making better use of transactional data and multi-bureau data. Traditionally lenders have taken a credit view on a customer the day they accept his application - and often never look at him again. But using transactional data, it is possible to provide lenders with a daily feed of information from many sources regarding the customer so that if, for example, he falls behind with one payment to another creditor, the lender is immediately notified and can make appropriate moves. In this way there can be daily monitoring of a lender's existing customer base. This, however, also indicates to lenders how borrowers are improving their payment patterns.
Analysis of changes in customer accounts shows that over a period of 3 months, over 50% of all customers experience some change in their credit score, so keeping a close eye on developments using multiple bureaux in order to enhance their decision-making, provides lenders with a far more accurate and most crucially, holistic assessment of their customer base.
There are a number of fiscal benefits to adopting the multi-bureau approach. In multi-bureau markets, the extra scoring and decisioning power derived from a second bureau can add enough value to make it cost effective, even if only on marginal or "thin file" records.
For example, if a client handles five million applications a year, with a refer rate of 10%, they have 500,000 applications for manual underwriting. If they pull additional data on these individuals then, conservatively, they may remove 50,000 referrals. At a cost of £30 per referral, this would save them £1.5m in processing costs.
With the credit crunch having taken hold of financial markets, financial institutions need to re-invigorate consumer confidence. Lenders need to be consistently monitoring their customers' ability to repay through use of transactional and multi-bureau technology. In this way they can immediately identify consumers who may be struggling with their debt levels and equally, make an important step towards retaining a more stable customer base.
This Content Component encountered an error