Capgemini wins six-year contract with Matalan
Matalan has awarded a new six-year contract to Capgemini to run all of its core IT systems until 2013.
Matalan has awarded a new six-year contract to Capgemini to run all of its core IT systems until 2013.
The services will be provided in line with Capgemini's Rightshore model, with service distributed between the UK, India and Poland from July 2007, following a transitional phase starting immediately.

Download this free guide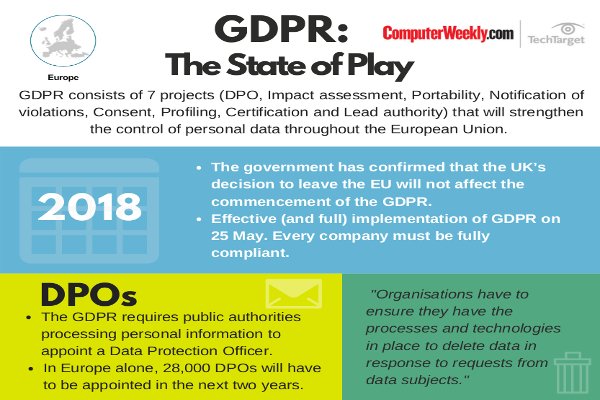 Infographic: GDPR - The State of Play
Get the latest information on how GDPR is going to affect your business and how to avoid any unwanted fines with this simple infographic.
By submitting your personal information, you agree that TechTarget and its partners may contact you regarding relevant content, products and special offers.
You also agree that your personal information may be transferred and processed in the United States, and that you have read and agree to the Terms of Use and the Privacy Policy.
The contract renews and extends existing arrangements between the two companies, currently based on services provided from Capgemini centres in the UK.
Matalan says that by accepting Capgemini's Rightshore model, it will gain significant cost savings and further increases in IT efficiency and service quality.
At the same time, Matalan says it is confident that it is ensuring continuity of service and minimising risk by remaining with Capgemini as its prime IT service partner.
Pete Trainer, IT Director at Matalan, said: "We were impressed by the quality and professionalism of Capgemini's Mumbai operations and reassured by its combination of a UK team on our doorstep with highly cost-effective support from India.
"Costs have already been reduced and quality boosted through working with Capgemini and we look forward to both these trends continuing and accelerating under the new arrangements."
Under the new contract, Capgemini will be supporting all Matalan's core business-critical applications from Mumbai, including point-of-sale, stock control and replenishment, merchandising, finance, human resources and office applications.
Service desk and desktop support services will be provided from a customer service centre in Krakow, Poland, and will support some 500 Matalan staff at the retailer's Skelmersdale, Lancashire HQ, at its three distribution depots and at its 200 UK stores.
Capgemini will also be providing Matalan with IT infrastructure management and network infrastructure services.
Related article: HMRC and Capgemini tie-in continues to cost
Comment on this article: computer.weekly@rbi.co.uk
Read more on IT legislation and regulation