Brocade buffs up WAFS and virtualisation
Brocade announces a number of updates to its products, including deeper integration between its StorageX file virtualisation and WAFS products.
This Article Covers
RELATED TOPICS
Brocade Communications Systems has announced a bevy of product updates slated for availability in June, including a new
WAFS
product and performance enhancements to its block
storage virtualisation
platforms.
WAFS/StorageX updates
Branch File Manager (BFM) 2.0 combines Brocade's Tapestry WAFS product, which is based on Packeteer Inc. subsidiary Tacit Networks Inc.'s WAFS, and some capabilities of the StorageX file virtualisation product Brocade acquired with NuView Inc. last year.

Download this free guide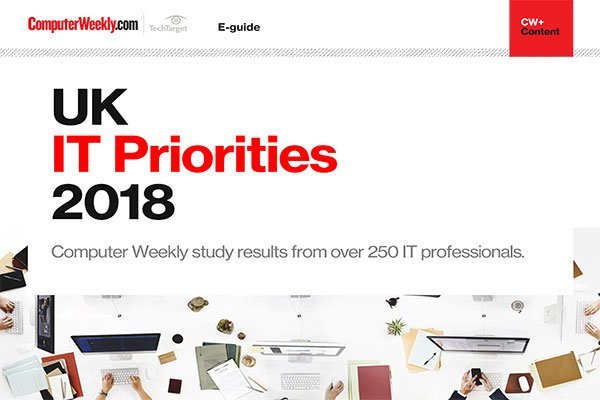 UK IT Priorities 2018 survey results
Download this e-guide to discover the results of our 2018 UK IT Priorities survey, where IT leaders shared with us what they are going to be investing in over the coming 12 months.

By submitting your personal information, you agree that TechTarget and its partners may contact you regarding relevant content, products and special offers.

You also agree that your personal information may be transferred and processed in the United States, and that you have read and agree to the Terms of Use and the Privacy Policy.

The new product will automatically consolidate CIFS traffic back to the data center when setting up WAFS at branch offices. The Windows Distributed File System (DFS) can be used to create a global namespace among multiple remote offices with "daisy-chain" failover if there's a WAN outage. It will also allow write access to cached files in the event of a WAN outage where the previous version was restricted to read-only.

Brocade has also added a "replication-based option" for branch file consolidation. StorageX 6.0 can be used to replicate files to the data center for backup. Users with NFS systems will have to stick to this option, as BFM supports only Windows file traffic.

"They're providing advanced file serving capabilities for the Windows OS, but they need to add better NFS support," said Tony Asaro, analyst with the Enterprise Strategy Group (ESG). "Maybe 80% of the world uses Windows for file serving, but that 20%on Unix is important, too."

Tom Becchetti, senior infrastructure engineer for a national financial firm, said this update has him considering a switch to the Brocade-branded product for the write access and failover options during WAN outages.

"There are ways to work around WAN outages with [Tacit WAFS]," he said. "But those were both limiting factors."

Becchetti said he's still apprehensive about support from partnered vendors. "What happens if that partner relationship is broken at some point? How much code does Brocade own? I'm wondering why they didn't buy the Tacit product outright."

According to a Brocade email to SearchStorage.com, "We strategically decided not to purchase [Tacit] … because we felt that Packeteer brings added value to the legacy Tacit technology." There are no plans to support NFS with BFM, officials added.

Block storage virtualisation updates

The 7600 block storage virtualisation appliance, an update of the previous 7240, and a new FA 4-18 director blade for virtualisation can now pool I/O across up to 16 ports, for aggregate performance of up to 1 million IOPS and aggregate throughput of up to 16 gigabytes per second (GBps). The previous platform supported up to 640,000 IOPS.

By comparison, a similar box from Emulex Corp. claims up to 1.2 million IOPS and 14 GBps aggregate throughput in a 1U four-port appliance. A typical midrange array usually offers about 200,000 IOPS. According to Doug Ingraham, Brocade's senior director of SAN product management, "Basically it means you could put about 10 midrange arrays behind [our appliance]."

The higher number of ports to achieve performance similar to Emulex's 1U box is not necessarily a drawback, according to Rick Villars, senior analyst with IDC. "People are concerned with how many devices they can hook in with the platform in addition to raw performance."

EMC Corp.'s Invista storage virtualisation and RecoverPoint replication software will be ported to the new appliances in June.

Software updates

Fabric Manager 5.3 will combine performance monitoring and error reporting to pinpoint where in the fabric errors are occurring. McData Corp.'s Enterprise Fabric Connectivity Manager (EFCM) has been updated to allow users with switches from more than one OEM to direct call-home to the right support organisation. Both will be free updates.

Brocade File Lifecycle Manager (FLM) version 4.0 will allow users with Network Appliance Inc. (NetApp) systems to overwrite policies and manually migrate files between devices. It will also allow Active Directory groups, storage resource management (SRM) and data classification tools to dictate file movement policies and track performance through Windows Performance Monitor.

Speeds and feeds

Brocade has doubled, from six to 12, the number of directors supported in a fabric, which translates roughly into support for up to 4,000 physical ports, 12 layer-2 switches and 12 Fibre Channel routers in the backbone fabric. An access gateway function originally designed for blade servers will be available on Brocade's 200E switches, which makes servers look as if they're directly attached to the director in a core-edge design. The 7500 switch and 48000 router blade will now support "fast write," which claims to speed up Fibre Channel disk mirroring over distance by queuing traffic and sending it all at once rather than requiring handshaking on DWDM links. Brocade has also added a 10 Gbps Fibre Channel blade for its network backbone.

Pricing and availability

SAN products are currently available to Brocade's OEM partners that will have products out this summer. File products will be available in June. StorageX node pricing for the branch starts at $2,000 per node. BFM starts at $7,000 to $8,000 per branch location. StorageX pricing for the data center starts at $8,000 per terabyte.
Read more on Networking hardware