Only a third of government IT projects succeed, says CIO
Only 30% of the government's technology-based projects are a success, a government expert has revealed.
Only 30% of the government's technology-based projects are a success, a government expert has revealed.
The figures come at a time when taxes are funding a £14bn annual spend on IT - equivalent to 7,000 new primary schools or 75 hospitals a year.
The low success rate will do little to build confidence in two of the government's biggest and riskiest IT programmes: the £5.3bn ID cards scheme and the NHS's £12.4bn National Programme for IT.

Download this free guide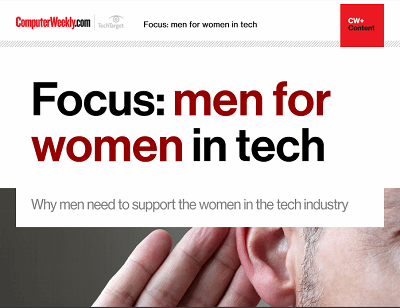 Men for women in tech
This guide showcases some of the men who are helping women to progress in the technology industry and the methods they are using to do so.
By submitting your personal information, you agree that TechTarget and its partners may contact you regarding relevant content, products and special offers.
You also agree that your personal information may be transferred and processed in the United States, and that you have read and agree to the Terms of Use and the Privacy Policy.
The figures were given by Joe Harley, chief information officer at the Department for Work and Pensions (DWP), the largest civil government department. He is also a member of the government's CIO Council.
Speaking at the Government UK IT Summit in London this week, Harley said that, for the government's IT spend of £14bn, it could construct "7,000 primary schools every year", about 600,000 nurses could be employed or more than three million state pensions paid.
"Today, only 30%, we estimate, of our projects and programmes are successful," said Harley. "Why shouldn't it be 90%?"
He added that government CIOs and suppliers have signed up to meeting a series of targets including an increase of the success rate of projects and programmes to 90% by 2010/11.
He added, "It is not sustainable for us as a government to continue to spend at these levels. We need to up the quality of what we do at a reduced cost of doing so. The first step is a conversation for radical change and we have had that conversation with our key suppliers across government."
One target is to cut overall IT spend which stands at £14bn a year by about 20%.
To achieve this, CIOs would aim to cut the cost of running desktops by 40%. In the DWP alone there are more than 100,000 desktops.
A DWP spokeswoman later played down Harley's comments. She said he was quoting from an independent report in which success was narrowly defined as the project being on time, to cost and meeting the specification exactly.
LSE calls for review of ID cards as costs keep rising >>
Reid announces risings ID costs>>
MPs slam failures in delivering NHS IT>>
Department of Work and Pensions>>
Tony Collins's It projects blog >>
Comment on this article: e-mail computer.weekly@rbi.co.uk
E-Handbook

E-Handbook

E-Handbook
Read more on IT jobs and recruitment