Iron Mountain offers email and storage
Iron Mountain partners with MessageOne to offer Exchange email services, but the hard work of integration with its compliance and LiveVault services is still ahead.
As Iron Mountain attempts a move from tape archiving to digital managed services, it has joined a multitude of other companies hitching their wagons to the star of e-discovery and email archiving.

The company has partnered with MessageOne to offer its Email Management Services (EMS) package, which includes archiving, security and continuity options that can be combined into one service or broken out separately for users. MessageOne claims that more than 1 million mailboxes are already archived using its storgae products. Iron Mountain had previously offered a service, Digital Archives, which focused on Securities and Exchange Commission (SEC) compliance for financial institutions.

Download this free guide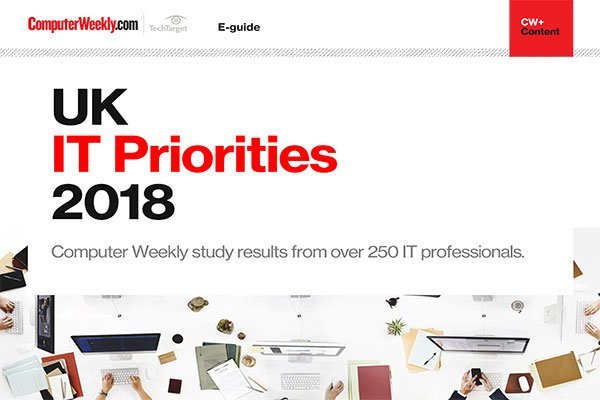 UK IT Priorities 2018 survey results
Download this e-guide to discover the results of our 2018 UK IT Priorities survey, where IT leaders shared with us what they are going to be investing in over the coming 12 months.

By submitting your personal information, you agree that TechTarget and its partners may contact you regarding relevant content, products and special offers.

You also agree that your personal information may be transferred and processed in the United States, and that you have read and agree to the Terms of Use and the Privacy Policy.

The Exchange-only Email Management Suite will run on a Windows 2000 server in the customer's environment and talks directly to the Exchange host to extract messages, performs antivirus and antispam functions, and replicates system-state information for failover, depending on which services the customer has selected.

Iron Mountain will be offering the services as either a three-in-one package or as individual services, priced on a per mailbox, per month subscription basis, as well as per gigabyte (GB) capacity. The entire package, including archiving, security and continuity services, costs $6 per mailbox; archiving as a standalone service, $4 per mailbox; continuity, $3 per mailbox; and security $1.50 per mailbox. On the storage side, after selecting the per mailbox rate, users have the option of prepaying for capacity at $4 per gigabyte or a pay-as-you-grow plan that costs $5 per gigabyte.

According to Sean Hegarty, senior product manager for electronic records in Iron Mountain's digital division, Iron Mountain will be using MessageOne's software but rebranding the service as Iron Mountain Email Management Suite. For the time being, the service will be run through Iron Mountain, but the majority of data will be stored at MessageOne facilities; Iron Mountain will eventually take over the hosting of data as well.

An acquisition to follow?

Hegarty did not rule out a possible merger between the two companies. "No discussions are currently ongoing," he said, "but in the past you've seen similar examples where we've built a solution with a company and then acquired it, as we did with Connected [Corp.] and LiveVault [Corp.]"

If an acquisition comes, Iron Mountain's history indicates it will probably be some way off -- the company partnered with desktop backup startup Connected for a little over a year before acquiring the company for $117 million in 2004 and was happy to partner with LiveVault for five years before acquiring it for $50 million in December 2005.

Users have many options -- With the service and in the market

Doesn't it seem like everyone and their brother has an email archiving product these days? Yes and no, according to Brian Babineau, senior analyst with Enterprise Strategy Group. "There are many companies offering some component of this package," he said. "But when you get into the number of companies offering failover, archiving and security, and offering them as a managed service, the number is comparatively few."

Still, Iron Mountain has its work cut out for it to grow its two-year-old digital division past the physical document storage and tape archiving the company continues to be most recognized for. Among the issues still facing Iron Mountain as it tries to move into digital businesses, according to Hegarty, will be integration between its products. He said Iron Mountain is currently looking to find ways to integrate its previous email compliance service with the new Email Management Suite, as well as integrating PC backup, server backup and archiving services into one platform.

As of this announcement, Hegarty said, Iron Mountain is also opening new data centers in Europe to try to further broaden the appeal of its digital services. "Customers do have a lot of options in this market," Babineau said. "[Iron Mountain] is going to have to be able to offer a little bit better mousetrap."
Read more on IT for small and medium-sized enterprises (SME)