Weekly compilation of storage news including Hitachi unveils 1 TB drive for retail
Hitachi has announced that its 1 TB SATA drive, aimed initially at the retail market, will ship this quarter. The enterprise version, however, will not ship until the second quarter.
Hitachi loads 1 TB drive
Hitachi Global Storage Technologies announced the first terabyte (TB) SATA hard drive, aimed initially for the retail market. The Deskstar 7K1000 will begin shipping to retail customers in the first quarter of 2007 at a suggested retail price of $399, or 40 cents per gigabyte. An enterprise version of the drive is expected in the second quarter of the year. Along with the Deskstar 7K1000 for the retail market, Hitachi is also announcing its CinemaStar version 1 TB hard drive, which provides capabilities specifically designed for digital video recording (DVR) applications. Meanwhile, Seagate said its 1 TB drive will ship the first half of 2007.

Download this free guide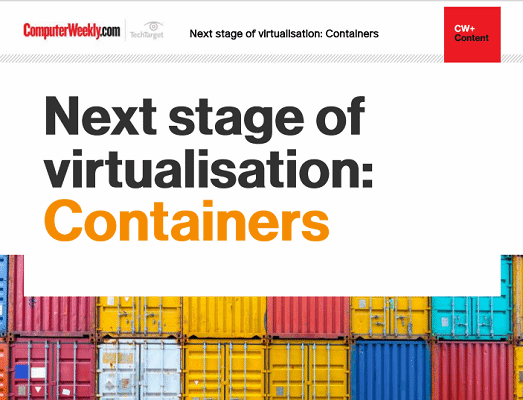 Next stage of virtualisation: Containers
Who doesn't love building blocks? Following the burst of cloud computing, containers are becoming a necessity for all organisational transformation and development. Follow us as we go through the technologies that complement and enhance their use, and outline a first-hand insight into the impact.

By submitting your personal information, you agree that TechTarget and its partners may contact you regarding relevant content, products and special offers.

You also agree that your personal information may be transferred and processed in the United States, and that you have read and agree to the Terms of Use and the Privacy Policy.

BakBone inks new deal with Sun
BakBone Software Inc. announced a worldwide technology licensing and distribution agreement with Sun Microsystems Inc., under which Sun will resell BakBone's NetVault Backup products through its direct salesforce, as well as its network of distributors and value-added resellers (VARs). The companies said they share a customer base that includes 550 of the Fortune 1000.

Indian bank deploys Riverbed
Riverbed Technology Inc. announced that the Tamilnad Mercantile Bank Ltd.(TMB), India, has deployed Riverbed's Steelhead wide-area data services (WDS) appliances in its Chennai data center and in its Bangalore disaster recovery center. TMB is a private-sector bank headquartered in Thoothukudi, with seven regional offices and 173 branches across India. During peak business hours, TMB generates a 100 MB log file every five minutes, which it replicates from Chennai to Bangalore. Prior to installing Riverbed's Steelhead appliances, replication of this file using Oracle's Data Guard application took more than 10 minutes. Following installation of the Steelhead appliances, the replication window dropped from over 10 minutes to two minutes.

Seagate primes channel for EVault
Seagate Technology announced it has extended its Seagate Recovery Services programs to a network of 14,000 channel partners in North America. Seagate Recovery Services will provide collateral and support, as well as offer the flexibility to allow partners to continue to work directly with their own customers or through referral. Three levels of recovery services will be available: Critical Response On-Site, In-Lab and Software Recovery. Seagate announced its intention to purchase online storage service provider EVault Inc. (See Seagate to acquire Evault for $185M, Dec. 21.)

NetApp plans new digs
Network Appliance Inc. (NetApp) entered into a $65 million financing, construction and leasing arrangement with BNP Paribas LLC for approximately 189,500 square feet of office space and parking structure to be on land currently owned by the company in Sunnyvale, Calif. Construction is expected to finish in 2009.

Incipient ships virtualization software
Incipient Inc. announced that its Incipient Network Storage Platform (iNSP) split-path storage virtualization product achieved general availability on Dec. 21, 2006. INSP is software, which is embedded on Cisco's MDS 9000 director-class intelligent Fibre Channel switches. Incipient has certified iNSP's interoperability with arrays from storage vendors, including EMC, Hewlett-Packard, Hitachi Data Systems and IBM.

SanDisk aims to replace laptop disks with memory
SanDisk Corp. introduced a 32 GB 1.8-inch solid state drive (SSD) as a drop-in replacement for the standard mechanical hard disk drive in laptops. Memory and hard drives have both been frequent topics of discussion in storage news lately. Consortiums headed by IBM and Seagate are currently researching in this area (See IBM, Seagate plan to rethink hard drives and memory, Dec. 22.)

Toshiba, LaCie beef up consumer storage
Toshiba Storage Device Division (SDD) announced a new line of USB 2.0 portable external hard drives in 100 GB, 120 GB and 160 GB capacities. Meanwhile, French consumer storage company LaCie kicked off the year by announcing five new storage products. New products include a Blu-ray drive for Windows/Mac; a quadruple-interface (USB, Firewire 400 and 800e, and eSATA) external hard drive bundled with EMC Retrospect Express backup software for Windows/Mac; a biometric access encrypted external hard drive; Ethernet disk; and Ethernet disk RAID. The new LaCie products will make their debut at Macworld Expo Jan. 9-12.

DVS puts Xyratex in movies
Xyratex Ltd. announced that DVS Digital Video Systems GmbH will integrate Xyratex's F5402E FC-SAS/SATA RAID system into products from its line of Film/HD Post Production storage systems.