Lancashire police force goes mobile
Lancashire Constabulary is to become the first UK police force to deploy a force-wide mobile data system, involving up to 3,500 users.
Lancashire Constabulary is to become the first UK police force to deploy a force-wide mobile data system, involving up to 3,500 users.
Police officers throughout Lancashire will soon be using mobile devices that will enable them to spend less time in the station and more time out on the streets.

Download this free guide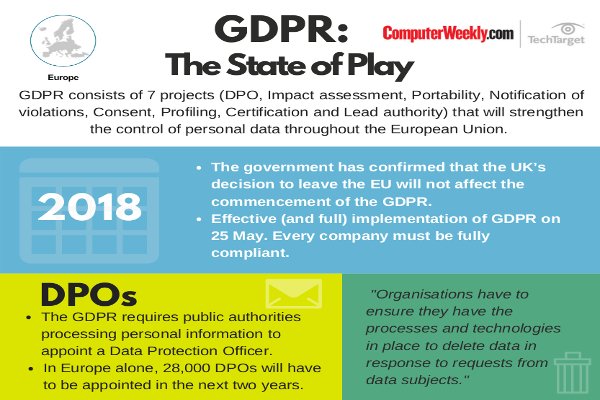 Infographic: GDPR - The State of Play
Get the latest information on how GDPR is going to affect your business and how to avoid any unwanted fines with this simple infographic.
By submitting your personal information, you agree that TechTarget and its partners may contact you regarding relevant content, products and special offers.
You also agree that your personal information may be transferred and processed in the United States, and that you have read and agree to the Terms of Use and the Privacy Policy.
The move is part of a strategic investment by Lancashire Constabulary designed to reduce unnecessary paperwork, reinforce nationally recognised levels of quality and performance, and provide the public with more visibility of patrolling officers.
O2 Airwave, which provides the national police mobile communications network, has won a contract to provide Lancashire with a managed force-wide strategic mobile data solution, based around the Airwave Mobile Applications Gateway (MAG) Service and the national secure Airwave Tetra digital communications network.
The contract runs over 10 years and follows a successful pilot that saw O2 Airwave working closely with Lancashire Constabulary for almost four years to develop the mobile data solution.
Stuart Fillingham, head of ICT for the Lancashire force, said: "Over the next couple of years we will be developing new mobile versions of our key police systems, such as crime recording and command and control. This will involve significant investments in internal resources and we therefore required a future-proofed, long-term mobile data platform that will support these developments well into the next decade."
Device options over the Airwave Tetra network range include fixed "in-vehicle" mobile data terminals (MDTs) and portable Tetra-enabled PDAs.
In addition, for use over the O2 GPRS network, Lancashire Constabulary has selected the O2 XDA range of PDAs, which are connected by secure VPN link to the
O2 Airwave MAG Service.
The MAG Service is future proofed, being able to connect with other network services such as 3G and Wi-Fi.
The contract with O2 will allow Lancashire officers to send and receive colour images of wanted, suspect and missing persons; check local intelligence databases against suspect persons or vehicles; undertake searches on the Police National Computer; enter a wide range of reports direct to their portable computer before transmitting them back to base; handle e-mails, and other capabilities.
Comment on this article: computer.weekly@rbi.co.uk
Read more on IT legislation and regulation