More 2007 'top 10 threat' predictions
Antivirus security specialist McAfee announced its top 10 predictions for security threats in 2007.
Antivirus security specialist McAfee announced its top 10 predictions for security threats in 2007.
According to data from McAfee's Avert Labs from more than 217,000 various types of known threats, it is clear that malware is increasingly being released by professional and organised criminals.

Download this free guide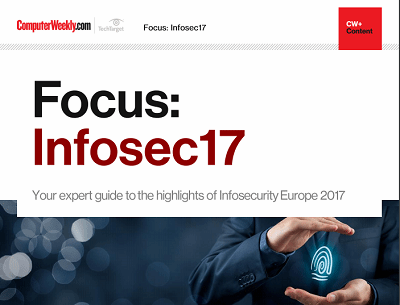 From forensic cyber to encryption: InfoSec17
Security technologist Bruce Schneier's insights and warnings around the regulation of IoT security and forensic cyber psychologist Mary Aiken's comments around the tensions between encryption and state security were the top highlights of the keynote presentations at Infosecurity Europe 2017 in London.
By submitting your personal information, you agree that TechTarget and its partners may contact you regarding relevant content, products and special offers.
You also agree that your personal information may be transferred and processed in the United States, and that you have read and agree to the Terms of Use and the Privacy Policy.
That message isn't new, but McAfee's top 10 security threats for 2007 do confirm that the next year is going to be another hectic one for security managers.
Among the threats: the number of password-stealing Websites will increase, using fake sign-in pages for popular online services such as eBay; the popularity of video sharing on the Web makes it inevitable that hackers will target MPEG files as a means to distribute malicious code; mobile phone attacks will become more prevalent as mobile devices become "smarter" and more connected; adware will go mainstream following the increase in commercial Potentially Unwanted Programs (PUPs). Parasitic malware, or viruses that modify existing files on a disk, will make a comeback; and the number of rootkits on 32-bit platforms will increase, but protection and remediation capabilities will increase as well.
Apparently, McAfee expects the 300,000th threat to be identified by the end of 2007, demonstrating its so-called 'growth potential.'
Some 300,000 security threats? It's a figure that hardly seems credible. It's amazing to consider that software has spawned a 'sub-industry' whose only raison d'etre is to create information havoc. And make money from it.
Comment on this article: computer.weekly@rbi.co.uk