Outsourcing Windows: What you can expect
Hiring an outsourcer to take over some of your IT operations is a concern for many managers, but Mark Arnold says while it might change your daily life, it won't change everything.
Outsourcing has become a widely adopted business practice that helps companies meet the growing need for greater financial and staff efficiencies. According to market researcher Gartner, businesses will spend more than $50bn on offshore and near-shore outsourcing by 2007. As an IT manager, you may not make the final decision about whether your company uses an outsourcer, but you will have some input into the decision and you will have to follow through with a plan for your IT staff. This article tells you how an outsourcing strategy will impact your IT structure and why it can be advantageous.

Many IT professionals have never worked for an outsourcer such as Electronic Data Systems (EDS) or IBM and have a fear about what it might mean when one of these companies takes over their IT operation. Rest assured, your life as IT manager isn't over when an outsourcer steps through the door. Yes, your daily life will change following a signed outsourcing agreement, but there are many ways it will not change too.

Download this free guide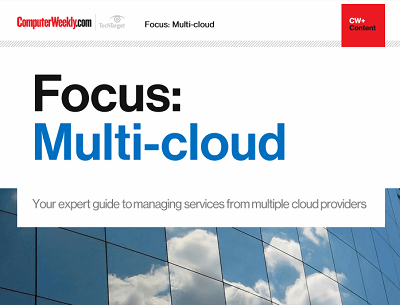 The maturity of the enterprise public cloud
Many IT leaders are increasingly coming round to the idea that sourcing services from one or more providers might be the best way to go. Join us as Computer Weekly takes a closer look at the multi-cloud approach and what providers are doing to capitalise on the trend.

By submitting your personal information, you agree that TechTarget and its partners may contact you regarding relevant content, products and special offers.

You also agree that your personal information may be transferred and processed in the United States, and that you have read and agree to the Terms of Use and the Privacy Policy.

Systems support

Being a part of an outsourcer's support framework will allow you to call upon a wealth of knowledge, usually found in centres of excellence. These centres of excellence allow you to escalate issues that, previously, you would have had to send to your former third-party support supplier or perhaps have had to post in an appropriate newsgroup.

All outsourcers' staff members have an extremely strong Microsoft focus because the skills in the Microsoft product set are easy to recruit for and easy to teach. Plus, the product roadmap is well defined, which enables the outsourcer to plan migrations, product offerings and strategies several years in advance.

All outsourcers -- even IBM, which has a very strong Unix, Linux and mainframe story -- will primarily focus on the Microsoft product set because of its existing prevalence in the enterprise, user familiarity, ease of training and available resource pool. It is a fact of life that administrators and other IT professionals with skills in Microsoft's product set are easier to recruit and generally have wider experience in their product disciplines within the IT industry. Unix administrators were prone to remain at one location longer than Microsoft administrators. In an environment where reduction in costs is the unstated objective, Microsoft's products represent the best solution for any outsourcing company.

There are some activities in the systems support tasks area that will be taken out of your control. For some of you overworked IT managers, that could be good news. Outsourcers invest heavily in enterprise-scale hardware and operating system monitoring solutions, such as HP's OpenView, BMC Software's Patrol or Microsoft Operations Manager (MOM), and your servers will be monitored by a central team.

When the central team can take care of a problem, it will. It is only if the team needs specific local input that you will receive support calls through the help desk system or MOM, if deployed, taking a data feed using a software connector from the centralised monitoring package. A decision will be made during the due diligence process as to whether the existing help desk system will be used or replaced by the outsourcer's preferred solution.

A key difference in using an outsourcer is that the outsourcer may replace the patch management solution you currently use with a centrally controlled solution. The outsourcer will likely use Microsoft's Software Update Services and will lock your servers so you can only use a cascaded system of updates. Only updates that are centrally approved will reach the locally deployed update node of the patch management solution.

Windows server and workstation builds

An outsourcing organisation has a great number of clients that will be serviced to varying degrees. Some customers might only want to "body-shop" (ie. provide skilled resources when necessary) their support while others may wish to outsource their entire IT function including their IT strategy.

When a company takes on a full outsourcing program, one item that will certainly have a degree of commonality is the standardised Windows server and workstation build that the outsourcing company mandates for customers. That means that if you've been using the workstation build pre-installed by your PC supplier, you will need to begin using the build required by the outsourcer. Using Microsoft Systems Management Server (SMS) and the Operating System Deployment Feature Pack (OSDFP) will enable you to connect a bare PC to the network and deploy the outsourcer's mandated build, and subsequently, applications, to the right system.

Build standardisation is set by outsourcers because settling on one enterprise-class system to replace a range of workgroup-class drive imaging solutions reduces the number of variables across customers and increases commercial efficiencies. Basically, the greater the number of differences means that more support people have to maintain a given solution or customer, and that increases the outsourcer's cost which will then be passed onto its customers.

If you can standardise each customer as much as possible by using common technologies and builds, then the number of problems and solutions to those problems can be fed to and received from the central teams. That is not to say that every customer of a given outsourcer has an identical desktop, but the underlying build will have the commonality and there will be a degree of customisation on top of that to maintain the customer's desires and possibly their branding.

The bottom line is that being a part of an outsourced organisation allows you to be part of a much larger virtual team.

Centres of excellence

Just because you have been outsourced does not mean you are subordinate in every way to the outsourcing organisation. In fact, individuals in your organisation may feel more appreciated and challenged by working in conjunction with an outsourcer.

Many outsourcers recognise that a client's IT organisation has a team of individuals who are significantly underused but who have talents greater than the positions they hold in their organisation. The outsourcer may then decide to set up, for example, an Active Directory centre of excellence within your team and focus its activities at your location. Members of an Active Directory centre of excellence could be regarded as experts in Domain Controller replication architecture, lingering object handling and, should the worst happen, forest recovery.

When an organisation is outsourced there will be network connectivity established between the outsourcer's parent network and the customer's network -- subject to the usual network security constraints, of course. You will be able to better use the skills of your IT staff and spend more time on your company's IT infrastructure tasks. This allows you and your colleagues to continue working in an established centre of excellence in a location that you (presumably) find desirable. You can also broaden your experience. These are just a couple of the many reasons why working with an outsourcing organisation should rarely be feared.

Mark Arnold, MCSE+M, Microsoft MVP, is a Technical Design Authority for the Capita Group, a U.K.-based business process reengineering organisation, where he provides advice and technical designs to the business process transformation teams for internal customer and local/central government accounts. Arnold has been a Microsoft MVP in the Exchange discipline since 2001, contributes to the Microsoft U.K. "Industry Insiders" TechNet program and can be found in the Exchange newsgroups and other Exchange forums. You can contact him at mark.arnold@msexchange.me.uk.

This article originally appeared on SearchWinIT.com.
Read more on IT outsourcing