Rackspace unveils Linux based managed hosting service -- and more news briefs
Short takes on this week's news
Linux-based managed hosting service launched
Hosting specialist Rackspace has unveiled a Linux-based managed hosting service providing performance monitoring, automated patching with roll-back and support for application infrastructure components such as Oracle, JBoss, MySQL and Apache.

Download this free guide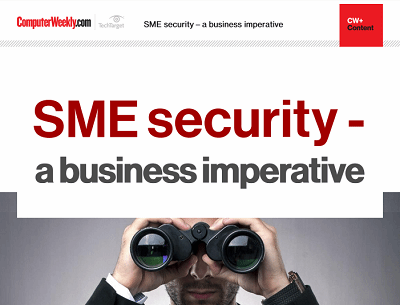 The secret to winning - SMEs and cyber security
50% of SMEs plan to spend less than £1000 on cyber defenses in the next year and only 42% of SMEs are concerned about ransomware. Anyone see a problem? Computer Weekly outlines some solutions to this growing naive trend.
By submitting your personal information, you agree that TechTarget and its partners may contact you regarding relevant content, products and special offers.
You also agree that your personal information may be transferred and processed in the United States, and that you have read and agree to the Terms of Use and the Privacy Policy.
Cordless model offers IP telephony on the move
Zultys Technologies has developed a cordless version of its desktop IP phone. The WIP 2 offers seamless connectivity as users move through the office, Zultys said. It supports voice encryption, paging, three-way conferencing, instant messaging and all standard telephony functions.
Distributed development tool for small firms
CollabNet has launched an application lifecycle development service for small and medium-sized enterprises and small workgroups. CollabNet Team Edition offers an "instant-on" software development environment for distributed project groups and is geared towards groups of five to 50 programmers.
Exchange failover toolkit upgraded
Windows administration tool supplier Sunbelt System Software has introduced the latest edition of its Double-Take Exchange Failover Toolkit. It includes the Exchange Protection Wizard, Exchange Failover Utility and DNS Failover Utility. The product also has "pre-flight check" tests designed to validate Exchange configurations before implementation.
Intelligent switches and cables for datacentres
Avocent has introduced the AM5130 switch and a range of intelligent cables to provide high quality audio, video and control for both test labs and datacentres. Avocent said the switch can be deployed where users need to access computers but do not want to be seated in the noisy, cold environments where computers are kept.
Read more on IT for small and medium-sized enterprises (SME)