Nationwide looks to virtual servers as the key to applications consolidation plans
Nationwide Building Society has consolidated 230 SQL Server databases running on commodity PC servers onto three Xeon servers and...
Nationwide Building Society has consolidated 230 SQL Server databases running on commodity PC servers onto three Xeon servers and is about to embark on a programme to consolidate its applications.

Francis Walsh, head of technology at Nationwide, said, "We have been removing SQL Server boxes and have stopped buying new hardware." Instead, over the past 18 months Nationwide has deployed the SQL Server databases on three Unisys ES7000, 32-way Xeon servers running Windows 2003 Datacenter Edition.

Reducing the number of servers simplifies ITmaintenance and support and reduces running costs.

Having completed the database consolidation, the building society is evaluating Microsoft Virtual Server and VMWare virtualisation software to consolidate its applications.

Nationwide's IT team has identified 10 line-of-business applications to run on the virtual server software. The first of them is scheduled to go live in June, running VMWare on a PC server.

Michael Humphreys, head of technology development at Nationwide, said, "We have been evaluating for six months." VMWare needs to be treated like a fully-featured operating system, like Windows. "It is a learning curve and we need to take things slowly," he said.

One of Humphreys' key decisions was to run VMWare on commodity PC servers rather than the ES7000 hardware.

The ES7000 would have allowed greater consolidation as it could potentially host multiple VMWare applications, but Humphreys said the products did not fit together, with VMWare yet to be certified for the ES7000.

Along with application consolidation, the building society has been building on the EMC/Cisco storage area network it installed in 2004. The San is being used to replicate data across Nationwide's two datacentres.

Humphreys said, "We wanted the ability to move data in real time."

This is already possible on the mainframes and the Hewlett-Packard Nonstop servers that Nationwide uses to run its network of automatic teller machines.

Humphreys said he hoped to develop the San so the tier-one discs in the datacentre could be replicated onto the cheaper tier-two and tier-three discs.

The San links Nationwide's datacentres in Wiltshire and Northamptonshire with up to 320gbps of bandwidth, using dense wavelength division multiplexing technology.

The primary datacentre provides storage and back-up for the building society's day-to-day activities; the other offers disaster recovery.

Download this free guide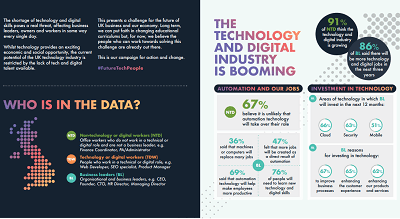 Infographic: Future-proofing UK technology
The shortage of technology and digital skills poses a real threat, affecting business leaders, owners and workers in some way every single day. Whilst technology provides an exciting economic and social opportunity, the current potential of the UK technology industry is restricted by the lack of tech and digital talent available. This presents a challenge for the future of UK business and our economy. Long term, we can put faith in changing educational curriculum but, for now, we believe the people who can work towards solving this challenge are already out there.
By submitting your personal information, you agree that TechTarget and its partners may contact you regarding relevant content, products and special offers.
You also agree that your personal information may be transferred and processed in the United States, and that you have read and agree to the Terms of Use and the Privacy Policy.
Walsh to retire after 31 years' service
Francis Walsh, director of technology at Nationwide, is retiring after 31 years with the company. When he started in 1974, the building society was running an IBM 360 mainframe: it was the era of punch-cards and paper tape.
In the years since, Walsh has seen the building society move to intelligent terminals, branch controllers and now, PCs.
Reflecting on his career at Nationwide, Walsh said, "Miniaturisation has been the biggest thing. PCs have a hundred times the capacity of our original mainframe." Branches were once connected by 300 bits per second lines. Now, he said, bandwidth is almost unlimited.
The highlight of his time at Nationwide was the ability of his team to provide high service levels for the business, said Walsh, and the reputation as a technical pioneer that Nationwide has achieved.
Michael Humphreys, head of technology development at Nationwide, will be the new director of technology.