Government snubs MPs over IT project secrecy
The government has snubbed proposals from a committee of MPs to publish details of its risky IT projects in the same week as it...
The government has snubbed proposals from a committee of MPs to publish details of its risky IT projects in the same week as it declared a "new culture of openness" in Whitehall.

Alan Johnson, secretary of state for work and pensions, scorned or ignored specific proposals of a Commons committee on improving the success rate of major projects by making departments more accountable and transparent.

Johnson said that more information on IT projects should be made available. But he refused to agree to a recommendation of the MPs' Work and Pensions Committee to publish business cases on IT projects or summaries of independent Gateway reviews on how risky projects are progressing.

He also rejected the committee's recommendation to order an investigation into the possibility of introducing legislation, along the lines of the US Clinger-Cohen Act, which would force departments to adhere to good practice on IT projects and report to Parliament on any major deviations from the contract or price.

MPs branded as "feeble and evasive" the government's response to the work and pensions committee's report on reforming Whitehall IT projects. One member of the committee, Paul Goodman, also said the government's response added weight to the committee's concern that the cloak of commercial confidentiality is being used to hide details of projects that are failing to meet expectations.

At the time Johnson was defending the need for Gateway reviews to be confidential, Lord Falconer, secretary of state at the Department for Constitutional Affairs said in a speech, "Good government is open government."

Falconer promised that the introduction of the Freedom of Information Act in January 2005 would "show citizens how government work and to show them how decisions are taken". The Act is a "bold and determined response to generations of secrecy".

MPs were enraged by the government's refusal to give any assurance it will publish even summaries of Gateway reviews of IT projects.

Labour MP Brian White, chair man of Parliamentary IT group Eurim, said the government, in not agreeing to publish Gateway reviews, has missed an opportunity to transform the way the public sector delivers major projects.

Archy Kirkwood, chairman of the Work and Pensions Committee, vowed, "We will not let the matter rest here."

In its recommendations, the committee drew heavily on Computer Weekly's oral and written evidence which concluded that a lack of accountability and transparency were primary factors in many IT disasters in government.

Computer Weekly had called for Gateway reviews to be published - a proposal which was adopted by the work and pensions committee but opposed by the Office of Government Commerce, which runs the reviews.

Kirkwood said his committee had produced a well-argued report into how the government's record on IT projects could be improved. "In particular the committee sets out an overwhelming case why Parliament and the public require more detailed information about IT projects, including the business case."

Download this free guide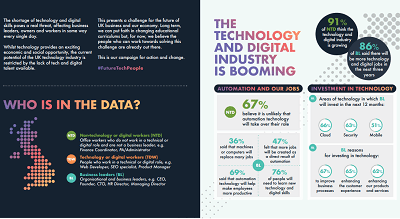 Infographic: Future-proofing UK technology
The current potential of the UK technology industry is restricted by the lack of tech and digital talent available. Read through this challenge for the future of UK business and our economy.
By submitting your personal information, you agree that TechTarget and its partners may contact you regarding relevant content, products and special offers.
You also agree that your personal information may be transferred and processed in the United States, and that you have read and agree to the Terms of Use and the Privacy Policy.
Two faces of government: openness or 'confidentiality'
Lord Falconer, secretary of state for constitutional affairs and lord chancellor, trumpets the government's aspiration to openness in a speech on 18 October.
"The more there is a culture of openness, the better decision-making will be. If decisions are explained, they will be better taken. Informed accountability improves standards. Good government is open government."
Alan Johnson, secretary of state for work and pensions, defends the decision not to publish IT project reviews in a report published on 20 October.
"There are legitimate concerns around the need to protect the inherent value of the openness and candour of the Office of Government Commerce Gateway review process currently afforded by confidentiality."

MPs given little comfort on CSA IT >>