There is no cash shortfall, IT chief tells NHS trusts
Richard Granger moves to allay fears about the cost of IT modernisation
Richard Granger, head of the national programme for IT in the NHS, has sought to allay fears among health service trust executives over the local costs of implementing national systems.

Speaking after Computer Weekly revealed last week that the total implementation costs for NPfIT systems could be between £18.6bn and £31bn, Granger said the money would be available to fully fund the initiative.

He also acknowledged that the health service would spend a total of £35bn to £40bn on IT over 10 years. The statements were made in an interview for BBC Radio 4's File on Four investigative series. A 40-minute programme about the NPfIT, on which Computer Weekly has collaborated, is due to be broadcast tonight (19 October) at 8pm.

Despite Granger's assurances, NHS trusts around the country are struggling to find the resources needed to implement the NPfIT.

One trust board, King's Lynn and Wisbech, has warned its Strategic Health Authority that "local funding to support the NPfIT creates considerable cost pressure on an already financially stretched local health system".

Download this free guide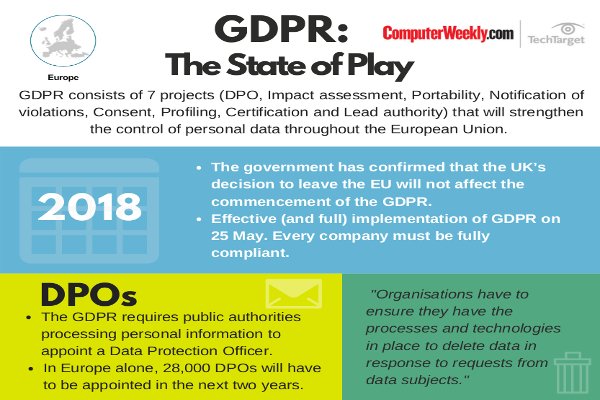 Infographic: GDPR - The State of Play
Get the latest information on how GDPR is going to affect your business and how to avoid any unwanted fines with this simple infographic.
By submitting your personal information, you agree that TechTarget and its partners may contact you regarding relevant content, products and special offers.
You also agree that your personal information may be transferred and processed in the United States, and that you have read and agree to the Terms of Use and the Privacy Policy.
Terry Walton, head of IT at Lewisham Hospital in South London, said he was not entirely reassured. "I have yet to see evidence that the extra money necessary will appear in trust budgets, specified for the use of IT."

However, Granger said, "The programme is fully funded. If you look to the Wanless Report [which laid the ground for the NPfIT], you will see a target of 3.5% to 4% of total NHS budget to be spent on making the right information available to run the NHS and serve patients, and we will sit well within that envelope."

He then acknowledged that the NHS could spend £35bn to £40bn over 10 years on all its IT requirements, both the clinical systems being delivered by the national programme and other systems.

Asked where all the money was going to come from, he replied, "That money is already in budgets and fully-fundedÉ [The NHS] has a 10% year-on-year increase in funding to accommodate activities such as this and that is all set out in the NHS plan and the Wanless ReportÉ The money is there, this is fully funded and we are on budget."

His statements appear to address doubts that arose after health minister John Hutton said that local costs of implementing the national programme would be met from the existing NHS IT budget of £1bn a year.

Subsequent statements by the Department of Health and Nigel Crisp, chief executive of the NHS, made plain that Whitehall was planning to spend up to 4% of the total NHS budget on IT. This would more than double its current general spend on IT.
The department said, "Any suggestion that vast unforeseen expenditure has been incurred, or that patient services will be robbed to meet this is nonsense."
Crisp said the current spend of about £1bn a year on IT systems, together with sums from annual allocations, will be "redirected to support the new systems".
But though Granger gave a firm assurance the national programme is fully funded, Crisp and the Department of Heath spoke of large increases in spending on the NHS and IT in particular but stopped short of giving a clear assurance to trust boards that there will be enough money to implement national systems locally. This has left trust IT executives continuing to question if and when the anticipated extra money from the Department of Health will materialise.
Walton said he has been seeking clarity over funding for local implementations and ongoing support for more than a year. "I do not think there have been any adequate answers on this," he said. "My view is that communications over the programme have not been adequate with people out here." MPs are also seeking answers. Richard Bacon, a member of the Commons Public Accounts Committee, has asked health secretary John Reid for clarification of the NPfIT's costs. "I would also like to know how much trusts are expected to contribute to the cost and how they are going to get the money. Many are deeply overstretched and have endemic financial crises," he said. Liberal Democrat shadow chancellor Vincent Cable plans to ask the Department of Health to publish the business case for the NPfIT.
James Drewer, healthcare programme manager at suppliers' body Intellect, said he and his members fully support the national programme.
"However, we urge the Department of Health to take steps to clarify the details of the funding arrangements as quickly as possible," said Drewer. "Without such clarification it will remain unclear to what extent the NHS trusts will financially contribute towards the programme and crucially what resources they will have left after any such commitment to concentrate on IT projects that fall outside the NPfIT."
NHS finance directors want answers
The NHS Confederation, which represents senior executives of health service organisations, has expressed concern about the lack of clarity over the costs of implementing the national programme for IT in the NHS.
Gary Fereday, policy manager at the Confederation, said, "The aspiration is that expenditure will be largely covered by savings made from the scheme and an increase in the IT budget. As yet, however, there are no clear figures for the costs facing NHS organisations and finance directors, as the people responsible for making the budgets balance, are concerned at this uncertainty.
"This is not the same as saying that costs are escalating, or that the national programme is not delivering, but simply shows that finance directors are being rightly cautious about how they spend public money."
Health minister adds to uncertainty over implementation costs of the NHS IT plan
John Hutton: "We think it is goin to cost the same"
Read more on IT legislation and regulation