August release for Windows XP SP2
Microsoft expects to finish work on Service Pack 2 for Windows XP next month, with the much-anticipated security focused update...
Microsoft expects to finish work on Service Pack 2 for Windows XP next month, with the much-anticipated security focused update available to users shortly after that.

Download this free guide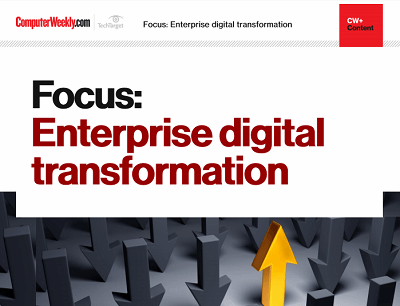 Are you digital to the transformation?
Digital transformation - the buzzword that we can't get away from. Enterprises need to accelerate their digital transformation journeys to avoid being left behind in an increasingly digital world. It's not an easy feat, but one that can be costly to get wrong. Join us as Computer Weekly takes a look at how businesses can stay on track through collaboration, innovation, and listening to user needs.
By submitting your personal information, you agree that TechTarget and its partners may contact you regarding relevant content, products and special offers.
You also agree that your personal information may be transferred and processed in the United States, and that you have read and agree to the Terms of Use and the Privacy Policy.
The head of Microsoft's Windows client business, senior vice-p-resident Will Poole, is expected to announce Microsoft's plan to end work on Service Pack 2 (SP2) and release the code to manufacturing in August during a keynote speech at the company's Worldwide Partner Conference in Toronto.
With that release to manufacturing, Microsoft will begin the process to distribute the already delayed service pack to users.
The delivery will start with the launch of the latest version of Windows Update, called Windows Update Version 5, which will include smart downloading technology which will allow users to interrupt the large SP2 download and resume it later, especially useful for users of dial-up internet connections.
Although Microsoft has called Windows XP SP2 a service pack, analysts have said that the update really is more comparable to a Windows upgrade.
SP2 contains bug fixes and updates, but it also offers new features and makes significant changes to the Windows software in four main areas: network protection, memory protection, e-mail security and browsing security.
A first beta of the Windows XP update was released in December, followed by release candidate 1 in March and a second release candidate in June. Hundreds of thousands of developers and IT professionals have already tried out the software. Once released, the service pack will represent one of Microsoft's most broadly tested products to date.
Microsoft has warned that Windows XP SP2 could break existing applications because of the changes that are made. The company has called on all developers and technology professionals to test the service pack.
Joris Evers writes for IDG News Service
Read more on Operating systems software