BPO spending and challenges increase
Spending on business process outsourcing (BPO) services will continue to increase in coming years, but so will clients'...
Spending on business process outsourcing (BPO) services will continue to increase in coming years, but so will clients' expectations for the quality and breadth of suppliers' offerings, a study claims.

Download this free guide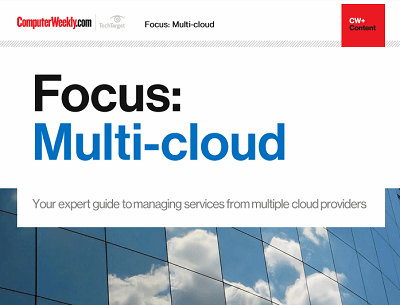 Mixing and matching your cloud options
Many IT leaders are increasingly coming round to the idea that sourcing services from one or more providers might be the best way to go. From a cost and resiliency perspective, some workloads might work better in one cloud over another. Or a certain provider might boast some functionality that suits a particular process the enterprise is looking to implement, but falls short in other areas, prompting the company to adopt a mix-and-match procurement strategy. Join us as Computer Weekly takes a closer look at the multi-cloud approach and what providers are doing to capitalise on the trend.
By submitting your personal information, you agree that TechTarget and its partners may contact you regarding relevant content, products and special offers.
You also agree that your personal information may be transferred and processed in the United States, and that you have read and agree to the Terms of Use and the Privacy Policy.
IDC said worldwide spending on BPO services reached $405bn in 2003, an increase of about 8% from 2002. Revenues are expected to grow at a compound annual rate of 11% through 2008, when they will total $682.5bn.
Fuelling the demand for BPO services are companies' desire to reduce costs, focus on their core business, obtain new expertise, and increase efficiency and productivity through business process integration, said IDC analyst Romala Ravi, one of the study's authors.
As BPO adoption spreads, companies are also becoming more savvy and are demanding better and more comprehensive offerings from suppliers, she said. For example, clients increasingly require BPO providers to have global capabilities and IT and business consulting skills.
Putting a damper on BPO growth is a certain level of confusion that suppliers are creating by peddling BPO services too aggressively to their clients, she said. This often results in the client feeling confused and delaying the decision to enter into a BPO engagement.
Suppliers also need to understand that the BPO market is made up of a number of different segments, and that each segment requires a significant level of expertise and specialisation for the supplier to be able to provide high-quality services, she said.
IDC has identified nine BPO segments: human resources; procurement, finance and accounting; customer care; logistics; engineering/research and development; sales and marketing; facilities operations; and management and training.
Juan Carlos Perez writes for IDG News Service
Read more on IT outsourcing