IBM opens Power architecture to boost integration
IBM will open up the architecture of its Power microprocessors to third-party suppliers, a move it said will make it easier for...
IBM will open up the architecture of its Power microprocessors to third-party suppliers, a move it said will make it easier for business users to integrate everything from small devices to large systems across their enterprises.

Download this free guide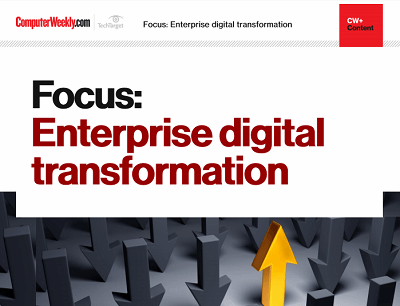 Are you digital to the transformation?
Digital transformation - the buzzword that we can't get away from. Enterprises need to accelerate their digital transformation journeys to avoid being left behind in an increasingly digital world. It's not an easy feat, but one that can be costly to get wrong. Join us as Computer Weekly takes a look at how businesses can stay on track through collaboration, innovation, and listening to user needs.
By submitting your personal information, you agree that TechTarget and its partners may contact you regarding relevant content, products and special offers.
You also agree that your personal information may be transferred and processed in the United States, and that you have read and agree to the Terms of Use and the Privacy Policy.
Company officials said the need for integration across a multitude of devices and systems - not chip performance benchmarks - is the over-riding concern of companies today.
"This is going to be a world driven by integration," said Bernie Meyerson, chief technologist in IBM's semiconductor division. "Integration eclipses gigahertz."
The company will license the Power architecture to third parties, which can then customise and innovate on it. Companies most likely to license the technology will be device makers in the telecommunications, gaming and medical industries, as well as electronics makers with strong vertical-industry expertise such as automotive suppliers, said IBM.
The move to broaden use of the Power architecture in a wider range of systems may give companies "confidence that 'indeed this is a long-term investment, and I will continue to depend upon Power', " said Richard Partridge, an analyst at DH Brown.
Risc chip makers are under growing pressure from Intel's push into the high-end systems market, particularly with its Itanium chip, which Hewlett-Packard is adopting as its standard. HP is planning to eventually phase out its PA-Risc chip.
However, there are limits to IBM's open architecture. For example, third parties will not be able change the chip's instruction set and hurt interoperability.
IBM is comparing its "community model" approach for Power to the Linux operating system, which it also sees as the chief system for third parties adopting the Power architecture. But company officials were also adamant in stressing that it was not moving away from AIX, its Unix system.
"We are continuing to invest heavily in AIX for customers," said Adalio Sanchez, general manager of IBM pSeries servers. "We are absolutely committed to AIX."
Patrick Thibodeau writes for Computerworld
Read more on Operating systems software