US govt says IT can help save troubled Medicare
The US government insists that a combination of initiatives, which include better IT, could save cash-strapped hospital insurance...
The US government insists that a combination of initiatives, which include better IT, could save cash-strapped hospital insurance trust fund Medicare.

Download this free guide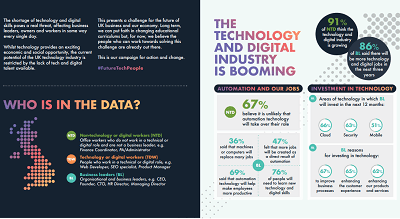 Infographic: Future-proofing UK technology
The current potential of the UK technology industry is restricted by the lack of tech and digital talent available. Read through this challenge for the future of UK business and our economy.
By submitting your personal information, you agree that TechTarget and its partners may contact you regarding relevant content, products and special offers.
You also agree that your personal information may be transferred and processed in the United States, and that you have read and agree to the Terms of Use and the Privacy Policy.
Medicare's board predicted that the fund will slip into the red in 2019, seven years earlier than the group estimated a decade ago.
The board's annual report cited a recent Medicare prescription drug bill as the chief culprit in the deteriorating finances of the 39-year-old government programme, and it warned that the Medicare payments would top US social security payments by 2024 as the baby boom generation ages.
However, the US Department of Health and Human Services said that some parts of the new drug benefit bill, such as e-prescribing efforts and disease management programmes, will help hold costs down.
"The reforms built into the new Medicare law often get overshadowed by the new prescription drug benefits, but these reforms provide more tools to use to improve the solvency of the program," said HHS secretary Tommy Thompson.
The HHS added that IT efforts, such as the push for increased use of drug barcoding systems, would help reduce errors and save money by ensuring more appropriate care.
Experts cautioned, however, that IT could do little to stem the wave of healthcare spending expected in the coming decades.
"I don't think that reducing inefficiencies alone will resolve the financial problems that are going to be faced by Medicare as a result of baby boomer retiring and more complex procedures coming on the market," said Paul Heldman, an analyst at Schwab Washington Research Group.
"I'm sure there will be benefits there, but I can't imagine it's the kind of savings that will save the Medicare programme."
The report - a collection of assumptions about the growth of healthcare expenditures and the rate at which new funds come into the programme - mentioned nothing about possible cost savings from informatics.
The phrase "information technology" never appears in the 221-page report, nor is there any reference to electronic medical records or computerised drug or order entry systems.
Brian Reid writes for Health-IT World