Microsoft details Business Solutions' roadmap
Microsoft unveiled forthcoming product updates from its Business Solutions group and talked of an an expansion to its business...
Microsoft unveiled forthcoming product updates from its Business Solutions group and talked of an an expansion to its business network collaboration initiative at the Convergence 2004 conference for Microsoft Business Solutions users in Orlando.

Download this free guide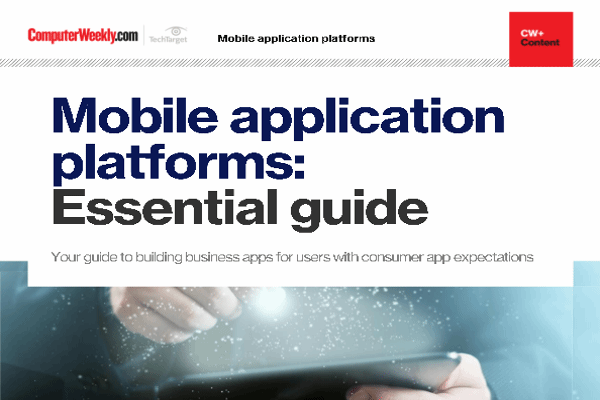 Building business apps for users with consumer app expectations
One of the mantras of modern enterprise application development is that business applications should be as easy to use as mass market consumer applications. In this guide, Computer Weekly examines the issues around mobile applications and the platforms emerging to help developers.
By submitting your personal information, you agree that TechTarget and its partners may contact you regarding relevant content, products and special offers.
You also agree that your personal information may be transferred and processed in the United States, and that you have read and agree to the Terms of Use and the Privacy Policy.
Products that will be updated this year include Microsoft CRM, Great Plains, Solomon, Business Portal and Navision.
Microsoft CRM will be updated in mid-2004 with software which allows users to synchronise Pocket PC handheld computers with the CRM application.
The feature is especially aimed at sales people who will be able to carry CRM data with them and make changes while on the road, Microsoft said.
Great Plains and Solomon will get version upgrades in July - Great Plains 8.0 and Solomon 6.0.
The latest business applications releases will offer numerous enhancements, including better integration with Business Portal, which in July will get a point upgrade to version 2.5.
In October, Microsoft will release version 4.0 of its Navision ERP product, which will offer greater functionality for manufacturing and an improved user experience.
Microsoft also discussed the Microsoft Business Network, a web services collaboration framework it announced last year. The company has completed a test project with Inovis which allowed the Microsoft Business Network to send and receive documents using EDI (Electronic Data Interchange) standards.
EDI is a technology used to exchange business data between trading partners that predates XML, the technology used by the Microsoft Business Network.
Adding support for EDI allows Business Network users to expand the number of trading partners, Microsoft said. EDI support will be offered through Inovis by the end of the year.
Microsoft Business Solutions makes software to help small and medium-sized businesses manage supply chains, finances and customer relationships. Microsoft entered the business application market when it bought Great Plains Software in 2000 and expanded that with the 2002 takeover of Denmark-based Navision.
Joris Evers writes for IDG News Service
Read more on Business applications