IT executives sceptical over new technology
IT directors are unconvinced and remain reluctant to buy into emerging technologies, despite increased budgets and better...
IT directors are unconvinced and remain reluctant to buy into emerging technologies, despite increased budgets and better understanding, an IDC survey has found.

Download this free guide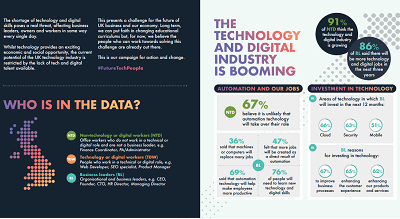 Infographic: Future-proofing UK technology
The current potential of the UK technology industry is restricted by the lack of tech and digital talent available. Read through this challenge for the future of UK business and our economy.
By submitting your personal information, you agree that TechTarget and its partners may contact you regarding relevant content, products and special offers.
You also agree that your personal information may be transferred and processed in the United States, and that you have read and agree to the Terms of Use and the Privacy Policy.
The IDC's annual Systems Survey 2004 also revealed that 2% more IT professionals have a more positive outlook for the new year than last year.
However, they remain decidedly unimpressed by some of the newer technologies on offer - in particular, blade servers, tablet PCs and applications servers - and were either sceptical or ignorant about their usefulness.
Chris Ingle, group consultant in IDC's EMEA Systems Group, said that there was a definite split depending on the size of the organisation adding, "Large organisations tended to be sceptical; smaller organisations tended to be ignorant."
The other, and more expected, change was the increasing interest in Linux. Although there was little evidence that organisations were kicking out their existing systems to forklift in a Linux infrastructure, there is a growing willingness for IT directors to experiment with the open-source operating system.
The survey found 48% of Linux servers purchased in 2003 were used to deploy an application (the remainder were used for server consolidation, supporting an existing application and development). Only 31% of Unix and Windows systems bought were for new applications.
Ingle pointed out that Linux figures were based on a lower installed base but, even so, said the results were encouraging for open source.
"The way I would read it is that Linux is a less mature platform, so inevitably there will be less purchasing for supporting existing applications. But customers who are bringing Linux into their environments have considered alternatives to the applications they are deploying and decided that Linux is better for this."
The survey interviewed 1,000 IT professionals responsible for their companies' infrastructures in six countries in Europe.
The survey found that the UK, Germany and Sweden were most positive about their investment prospects. France, Spain and Italy were less positive.
Maxwell Cooter writes for Techworld.com