IBM tops server market for 2003
IBM has extended its lead over Hewlett-Packard as the top supplier of servers in 2003, as its revenue share of the worldwide...
This Article Covers
RELATED TOPICS
IBM has extended its lead over Hewlett-Packard as the top supplier of servers in 2003, as its revenue share of the worldwide market for Unix and Intel-based servers grew to 32% in revenue terms, according to Gartner.

Download this free guide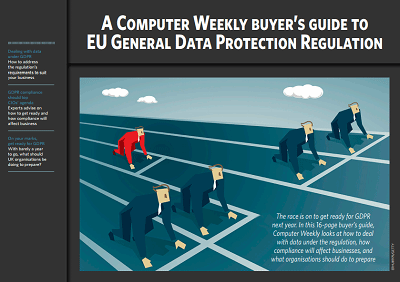 Computer Weekly's Buyer's Guide to GDPR
The race is on to get ready for GDPR next year. Computer Weekly looks at how to deal with data under the regulation, how compliance will affect businesses, and what organisations should do to prepare.
By submitting your personal information, you agree that TechTarget and its partners may contact you regarding relevant content, products and special offers.
You also agree that your personal information may be transferred and processed in the United States, and that you have read and agree to the Terms of Use and the Privacy Policy.
IBM's revenue climbed 10% to reach $14.8bn for the year, which was twice the growth rate for the overall market, but still not as fast as Dell, the industry's fastest growing supplier. Dell's 2003 server revenue jumped 22%, from $3.3bn in 2002 to $4bn last year.
"Dell is continuing to show very strong performance," said Gartner analyst Joseph Gonzalez. "By selling strictly through the direct channel, they've got a very close look at what their customers are requesting. When there's a shift in demand out there, they are one of the first to know it."
IBM's growth was helped by its strong showing in the last three months of the year. In that period, its Intel server business grew 15% to $1 billion, and in its Unix business increased 21% to $1.2bn. IBM was the only major supplier to show year-on-year growth in its Unix business, which grew by 13% in 2003 to $4.1bn.
Sun Microsystems and Dell ranked and third and fourth respectively by revenue.
The year was a particularly tough one for Sun, which saw its revenue drop by 15% $5.5bn, and its share of the shrinking Unix market drop by more than four percentage points, to 32.6%.
Although Sun remained the leader in Unix shipments for the year, its lead over second-place Unix supplier HP was cut significantly to less than 1%, and HP actually outsold Sun during the third and fourth quarters of 2003, Gartner said.
"A year ago Sun was a big leader. HP has done a tremendous job in closing the gap," Gonzalez said of the Unix market, predicting that HP will probably displace Sun as the top Unix vendor over the next few quarters.
HP, which remained the leader in Intel server sales with 33.8% of the market, saw its revenue grow at 5%, or the same pace as the server market overall. HP's total server sales went from $11.9bn in 2002 to $12.5bn in 2003, according to Gartner.
Robert McMillan writes for IDG News Service
Read more on Server hardware