Adic iSCSI tape libraries target branch offices
Advanced Digital Information Corporation has launched iSCSI add-ons for its Scalar 24 and Scalar 100 models, allowing servers to...
Advanced Digital Information Corporation has launched iSCSI add-ons for its Scalar 24 and Scalar 100 models, allowing servers to connect to a library over Ethernet.

Download this free guide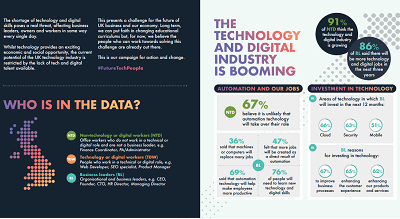 Infographic: Future-proofing UK technology
The current potential of the UK technology industry is restricted by the lack of tech and digital talent available. Read through this challenge for the future of UK business and our economy.
By submitting your personal information, you agree that TechTarget and its partners may contact you regarding relevant content, products and special offers.
You also agree that your personal information may be transferred and processed in the United States, and that you have read and agree to the Terms of Use and the Privacy Policy.
"We think now is a good time because the iSCSI standard was ratified about a year ago, so you don't see compatibility issues with other vendor's products," said Adic product marketing manager Sandra Adelberger. "Microsoft is building iSCSI into Windows 2003."
Backup consolidation previously required a storage area network with Fibre Channel server adapters, network switches and management expertise. Adelberger acknowledged that iSCSI is lower performance than Fibre Channel, but said that it has the advantage of re-using the existing Ethernet infrastructure and skills.
"I think many companies like the idea of a San but haven't done it because of the cost - not just the component cost, but the cost of know-how too. Not only do you need a consultant to build the San but then you have to maintain it," she said.
As with backup consolidation over Fibre Channel, the iSCSI route requires the backup software to support shared storage. Each server sees the library as if it were attached directly, so one server in the network must be designated as master. However, it only controls access to the library, and does not route data.
Adelberger said iSCSI requires an extra $4,000-$5,000 protocol conversion module in the library. She compared this with the TCP/IP offload engines (Toes) that can be added to busy servers to offload the job of processing iSCSI data packets.
Adic is the biggest tape library developer to take iSCSI on board, but it is not the first. Spectra Logic has offered iSCSI libraries since last May, and sold Gigabit Ethernet-attached libraries before that.
However, Mike Sausa, Spectra Logic's regional sales director for central Europe, agreed that now could be a good time to enter the iSCSI market. He said that although iSCSI had generated lots of interest for Spectra Logic, it has not been a big seller so far.
He added that what's important is how well integrated iSCSI is with the rest of the library. "Ours is fully integrated, but I understand ADIC uses a third-party bridge device," he said.
Bryan Betts writes for Techworld.com