Novell joins OSDL
The Open Source Development Labs (OSDL) announced that Novell has joined the consortium to help drive both server and desktop...
The Open Source Development Labs (OSDL) announced that Novell has joined the consortium to help drive both server and desktop initiatives.

Jeffrey Hawkins, vice-president with the Office of the CTO at Novell, has been elected to OSDL's board of directors.

Download this free guide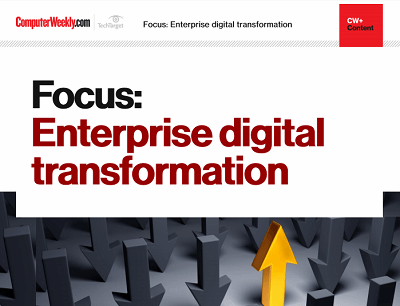 Are you digital to the transformation?
Digital transformation - the buzzword that we can't get away from. Enterprises need to accelerate their digital transformation journeys to avoid being left behind in an increasingly digital world. It's not an easy feat, but one that can be costly to get wrong. Join us as Computer Weekly takes a look at how businesses can stay on track through collaboration, innovation, and listening to user needs.
By submitting your personal information, you agree that TechTarget and its partners may contact you regarding relevant content, products and special offers.
You also agree that your personal information may be transferred and processed in the United States, and that you have read and agree to the Terms of Use and the Privacy Policy.
Novell will participate in a number of OSDL working committees including ones for the Data Centre Linux (DCL) and Carrier Grade Linux. The company is also eager to contribute to the consortium's Linux-based desktop efforts.
"Novell is very interested in the Data Centre Linux working group. We are on the cusp of publishing the first output from that group, which will be Version 1.0 of the Requirement Specification, which will be out in the first half of next year. I think Novell is in early enough here to contribute to that exercise," said Nelson Pratt, director of marketing for OSDL.
Despite its $1bn in revenues and acquisitions of SuSE Linux and Ximian earlier this year, Novell will not have any more influence in determining OSDL's drive to plant Linux on the desktop than any other voting member.
"[Novell] will contribute to the momentum, but they very much want to be a part of it. We announced our intention to investigate Linux on the desktop months before Novell joined. Our bylaws dictate that no single member can direct lab initiatives any way without a consensus," Pratt said.
Novell will not make any contributions to Version 2.6 of the Linux kernel since that technology is now deep into its beta cycle, with the finished version expected to be ship early next year.
Linux inventor Linus Torvalds and his hand-picked team of engineers released Test Kernel 9 of Version 2.6 in November and are now wrapping up work on Test Kernel 11.
"They are not taking any more contributions for 2.6. The only input coming in is for bug fixes and very small enhancements," Pratt said.
Ed Scannell writes for InfoWorld
Read more on Operating systems software